PETER UTAKA learned from Premier League Stars
Published: May 04, 2011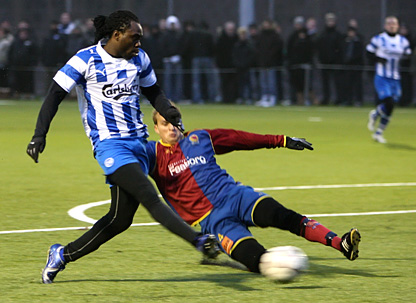 When Peter Utaka was 16 years old, he tested with a club in the United Arab Emirates but nothing came out of the trials. With the help of his older brother John and his agent, he moved to
Croatian giants Dinamo Zagreb.

At
Dinamo Zagreb, Utaka shared an apartment with
two other young footballers, one later signed for Arsenal.

''The club took good care of me. J I lived with Eduardo and another guy. We each had our room and a living room and kitchen, and we took turns to cook for each other. We had a good time in Croatia, '' Peter Utaka told Tipsbladet.

Utaka had a good time with Eduardo, who later naturalized to enable him play for the Croatia national team.

''When Eduardo was playing for Arsenal, I phoned a few friends and asked them to get a message through to Eduardo. I called Obi Mikel and said he should get Eduardo's number when he next had to play against him. 'Just tell him Peter Utaka,' I said to Obi. They succeeded, and so I spoke with Eduardo. 'Hey, where are you along in the world?! You need to come to England, 'said Eduardo to me. I said that I probably should come.I was really upset when he was injured, because he is great guy. It hurt to see something happen to a man like him. It's funny to think of today that we eight years ago, lived together and made everything crazy. And on everything that has happened to us since then, '' says Peter Utaka to Tipsbladet.

Later in his career, in 2007, switched Peter Utaka to Royal Antwerp from Westerlo, who were in the Belgian first division. Antwerp only played in second division, but the club had a partnership with Manchester United. The training Utaka received to this day has inspired the national team striker.

''I played along with Darron Gibson, who played on our midfield and I played together up front with Frazier Campbell, who plays for Sunderland today. Our heart stops when Ryan Shawcross is currently captain of Hull. Jonny Evans and John O'Shea also played on loan at Royal Antwerp. So we had a strong team and it was inspiring to play with them. They chased every ball and they have a lot of credit for where I am today. I still have contact with them, one must not forget those who helped in one way in life, '' says Peter Utaka.

Peter Utaka currently has just over a year left on his contract with OB, and the Nigerian striker has a dream to play at the same level as his former teammates. Based on previous bids received by Odense,
It may potentially be a reality within the next year or so.
(Source: Tipsbladet)