SOLOMON OKORONKWO Fears For National Team Future
Published: October 06, 2011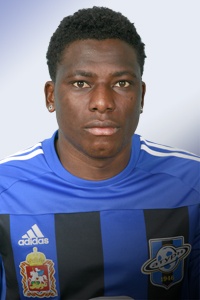 Solomon Okoronkwo is dissatisfied with his lack of first team chances at AaFK. He feels this is affecting his invitation to the Nigeria National Team. Against IK Start on Monday, the 2008 Beijing Olympics silver medallist spent 90 minutes on the bench.
''I was stuck on the age-specific national teams and Olympic national team. In addition, I played some games for the senior National Team and had been invited for some games. But due to lack of playing time in Aafk, I was not invited this time,'' Okoronkwo was quoted as saying by
Sunnmørsposten
.
Okoronkwo's contract expires at the end of the season. He might not be offered a contract extension by the AaFK hierarchy.
''I have an agent I talk a bit with. And he is not satisfied with the status quo. Shall I continue in Aalesund, I have to get more chances than I had in the fall.''
The Netherland Fifa Under 20 World Cup star has started only four games in the league. Sometimes, he is used by the coach in the Reserve League.