CYNTHIA UWAK: NFF Right To Sack UCHE EUCHARIA
Published: December 30, 2011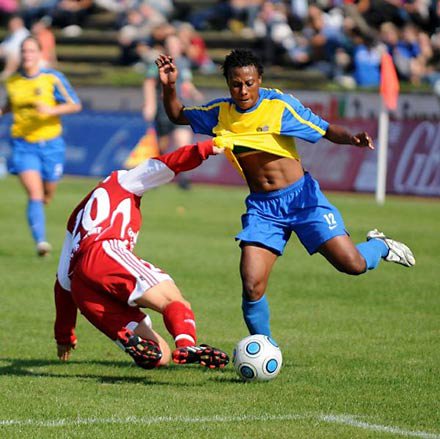 Two-time African Women Footballer of the Year Cynthia Uwak is on vacation and will return to Finnish club PK-35 Vantaa in February.
Uwak joined PK-35 Vantaa last summer following the relegation of FC Saarbrücken from the German Bundesliga. Despite an injury plagued campaign, she managed a dozen goals for PK-35.
The 25-year-old striker was surprisingly dropped by Uche Eucharia from the Falcons Team which participated at the 2011 Women's World Cup. In her absence, the Falcons crashed out of the tourney in the first round.
'' I still don't know why I was dropped from the team that participated at the World Cup, to be sincere. But it is past now,'' says Uwak to allnigeriasoccer.com.
She added: ''Uche sacked by the NFF....Well, they are the people that gave her the job, and they have every right to do whatever pleases them if they felt she wasn't performing.''