22 Peruvians Train For Eagles
Published: May 21, 2012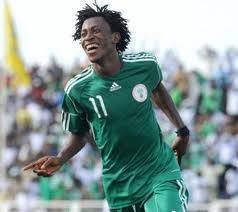 Ahead of the titanic clash with the Super Eagles of Nigeria on Wednesday in Lima, the National Team of Peru are preparing for the tie at their training camp in Videna.
Experienced Peruvian journalist Víctor Zaferson Mendoza has provided an update to allnigeriasoccer.com on the happenings in the camp of
La Blanquirroja
.
''Peru coach Sergio Markarian worked with 22 players on Sunday evening. Included at training were Paolo Guerrero, Jefferson Farfán and Renzo Revoredo, who play outside Peru. Claudio Pizarro, Bremen's forward, is expected to arrive Lima on Monday, and will train on the same day. The line-up for Peru has not been released to the Media. Coach Markarian will disclose the starting line up against Nigeria on Tuesday,'' says Víctor Zaferson Mendoza to allnigeriasoccer.com.
The last time Peru played an African opposition was last June in Lima. La Blanquirroja defeated Senegal by 1-0. The West Africans had announced a senior squad for the friendly. But when the team was scrutinized, the squad comprised members of Senegal's under-aged sides plus four senior players.
Peru Squad To Face Nigeria
Goalkeepers
: Raúl Fernández (Nice/France)Diego Penny (Juan Aurich/Perú) Leao Butrón (U. San Martín/Perú)
Defenders
:Giancarlo Carmona (Alianza Lima) Renzo Revoredo (Olimpia/Paraguay)
Luis Advíncula (Sporting Cristal)
Christian Ramos (U. San Martín) John Galliquio (Universitario) Jesús álvarez (Sporting Cristal) Santiago Acasiete (Almería/España) Alberto Rodríguez (Sporting Lisboa/Portugal) Carlos Zambrano (Saint Pauli/Alemania) Yoshimar Yotún
(Sporting Cristal) álvaro ámpuero (Universitario)
Midfielders
: Carlos Zegarra (León de Huánuco/Perú) Antonio Gonzales (Universitario de Deportes) Rinaldo Cruzado (Chievo/Italia) Luis Ramírez (Corinthians/Brasil) Ronald Quinteros (Universidad de San Martín) Carlos Lobatón (Sporting Cristal) Christian Cueva (Universidad de San Martín) Juan Manuel Vargas (Fiorentina/Italia) Michael Guevara (Juan Aurich) André Carrillo (Sporting Lisboa/Portugal) William Chiroque (Juan Aurich) Renzo Sheput (Sporting Cristal)
Strikers
: José Carlos Fernández (Alianza Lima)Claudio Pizarro (Werder Bremen/Alemania)Jefferson Farfán (Schalke 04/Alemania)Paolo Guerrero
(Hamburgo/Alemania)Raúl Ruidiaz (Universidad de Chile)

Latest News