We Have Our Spies: Meet FRANK NNAM, the Nigerian Playing in Peru
Published: May 23, 2012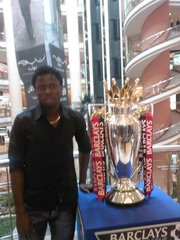 Frank Nnam is an attacking midfielder playing in Peru. Afer spells in Nigeria and Egypt, by a strange coincidence, Nnam found himself in the South American country, playing for Hijos de Acosvinchos in the Second Division .
He swears he was the victim of an unscrupulous agent and therefore ended up abandoned in Peru. But he did not give up. Nnam was invited for tests at his current club, and surprised everyone with his speed.
Nnam spoke to top Peruvian newspaper, depor.pe, and he says Nigeria will win the game 2-0.
What do you think about Peruvian Team?
Nnam: ''Ah, well, they are very good players who play good football. They like to hold the ball a lot, too slow when playing. Football generally in Peru is good. But they have to be more aggressive to get good results.'
What is the outcome of the match between Peru and Nigeria?
Nnam: ''Haha, well ... I believe Nigeria will beat Peru, maybe 2 to 0.''
Will you go to the stadium?
Nnam: ''I'll, of course, I have good friends in the team. Maybe I can talk to him, he is Chinedu Obasi (Farfan's teammate at Schalke 04, who ultimately was not invited to this match).''
Well Frank, we wish you much luck..........
Nnam: ''Same for you, but I think that Nigeria wins. We are committed''
Published by allnigeriasoccer.com, special permission from depor.pe