Everton Plans To Sell YOBO Now Delayed
Published: May 23, 2012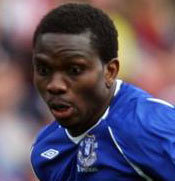 Source: Tribalfootball.com
Everton plans to sell Joseph Yobo have been hit with the Nigerian suffering an injury.
Yobo, who has been on loan at Fenerbahce for the past two season, has been ruled out of next month's 2014 World Cup and 2013 Africa Cup of Nations qualifiers after sustaining an injury during Wednesday night's Turkish Cup final.
"It's a huge blow to lose your captain and the most experienced player in your team," Nigeria coach Steven Keshi said.
"It's sad I must admit but we've got to look ahead and work with a positive mindset.
"We have to fight the hard way now.
"I'm confident one of the three replacements will fill that void brilliantly."
Latest News