Oyo Partners FPISA To Revamp Governor's Cup
Published: May 23, 2012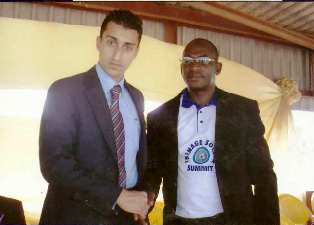 The present administration in Oyo State has demonstrated its seriousness concerning the pledge it made to turn grassroots sports around in the state by giving the annual school soccer tourney also known as Governor's Cup a new face.
The Commissioner for Youths and Sports in the State, Dapo-Lam Adesina who initiated the whole move told newsmen in Ibadan while unveiling the new logo designed for the tourney that all new innovations that was introduced is targeted to spur the participants to a better performances.
Adesina said the State has partnered the newly established FRENAGE-Progression International Soccer Academy (FPISA) on the Governor's Cup project with view of given outstanding players discovered during the tourney a scholarship at the Academy to further and sharpened their soccer skills apart from other incentives attached to the tourney.
"We have partnered the international standard football school we have here in Ibadan; FRENAGE-Progression with the view of bringing their foreign scouts to pick players that distinguish themselves for scholarship, the development we know would be solid foundations for their soccer career".
The youthful Commissioner however warned that his administration would not take lightly any act of cheating that always characterized school competitions in the past.
This was demonstrated when UMCA, Igbeti and Lagulu Grammar School, Kishi (both from Irepo zone) was nabbed for an act of fraud and was expelled from the tourney and subsequently banned for 2 years from participating in any school completion within the state or outside.
Lam-Adesina who confirmed the penalty during the screening and accreditation exercise for the remaining seven schools further hinted that more penalties may still be met out to the authorities of the schools involved in the dastardly act.
The tourney has however entered its semi-final stages after the quarter-final matches where played on Monday at the Olubadan Stadium, Ibadan. Eruwa high school defeated Bode Thomas Grammar school 3-0 to book their place among the best four teams in the competition.
While Success Group of school kissed the dust as they bow down to Muslim Grammar School Ibadan by 0-1. Ogbomosho Grammar School also went ragged as they thrashed Ayekale Community 3-0 to book a place in the last four.
Adekile Goodwill Grammar School (Ibadan city) will meet Eruwa High School in the first Semi-final fixture while Muslim Grammar School will trade tackles with Ogbomosho Grammar School in the second Semi-final fixture.
Both Semi-final matches are slated to hold on Thursday inside the Olubadan stadium by 12 noon.

Akanbi Agiri
Latest News