Nigerian Player In Peru, TUNDE ENAHORO: Peru Won't Have It Easy
Published: May 23, 2012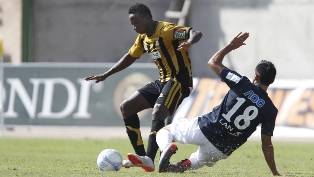 The clock is ticking. Peru - Nigeria is only four hours away at the National Stadium, Lima.
Depor.pe
contacted the Nigerian player Tunde Enahoro based in Peru, who plays in the Moquegua Cobresol, to share his thoughts on the Nigeria selection.
Enahoro praised the Peru National Team , but said the Peruvians should be careful with the Nigerian players because they are very fast.
What do you think of the Peruvians?Tunde Enahoro
: ''Markarian's team is very talented, good players technically and tactically. The match between Peru and Nigeria will be very exciting. It has several good players, for example is Paolo Guerrero , who is a very dangerous player and goal scorer. Farfan is also a great player for his speed and his great dribbling ability, also Pizarro. Beware of these attackers.''
What can you say about the Nigeria selection?Tunde Enahoro
: ''The Nigerian team is very young and physically at a high level, have good players in midfield and quick in attack. The team is very dangerous because they are young. Peru will not have it easy.''

What can you say about Nnamdi Oduamadi, a former Milan player and now loaned to Torino? Tunde Enahoro
: ''He is very important for Nigeria. A very dangerous player and is very talented. I watched a few games and he really is a player with much speed and tactically strong. Nigerians will want to win the game because it will be a good preparation for the match against Namibia, qualifiers for Brazil 2014.

What other players should be watched in the team? Tunde Enahoro
: ''Obiorah Nwankwo, an Inter Milan player should be taken into account because he is very dangerous. There are players in the Nigerian championship not far behind and should be very careful with them.''
Maybe you can predict. How will the game go?Tunde Enahoro
: ''As a Nigerian I want my country to win. I think it will be 2-1, but could also be a draw.''
Will you come to Lima to watch the game? Tunde Enahoro
: ''I wanted to go to the game, but as I trained with Cobresol today, do not think I have the time to go to Lima. But I'll see it anyway on TV with my teammates.''
Reproduced by allnigeriasoccer.com, Special permission from depor.pe
Latest News