EFE AMBROSE Eager To Answer National Team Call
Published: May 24, 2012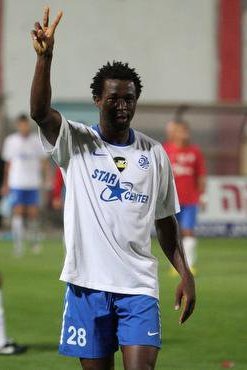 MS Ashdod utility player Efe Ambrose is delighted to be back in the national team set-up for games against Namibia, Malawi and Rwanda in June.
Overlooked for selection since the year started, Ambrose's performances in the Israeli championship has been noticed by the National Team handlers.
''I can't wait to answer this call-up. I was very happy when the squad was announced and my name was on the list. I was invited for the first two (friendly, ed) games when Coach Keshi took over. One thing that stands him out is that he played the game at the highest level, and wields a lot of respect. Keshi has a good management style which brings confidence to the players,'' says Ambrose to allnigeriasoccer.com.
From June 3 - 17, Nigeria plays her rivals - Namibia, Malawi and Rwanda - in the World Cup and African Cup of Nations qualifiers. Ahead of those important matches, Ambrose is talking tough.
''There are no more minors again in African football. And we, the players, all know that. We shall approach each of these matches like a cup final. Qualifying for the next African Cup and the 2014 World Cup in Brazil is not negotiable,'' adds Ambrose.
Ambrose also revealed he was in talks with his agent on his future. He is attracting interest from clubs in Western Europe.
''