Premiership New Boys To Challenge Eskisehirspor For YAKUBU AIYEGBENI
Published: May 29, 2012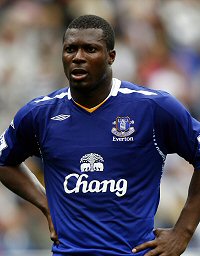 Relegated with Blackburn Rovers, Nigerian striker Yakubu Aiyegbeni does not want to play in the Championship.
According to revelations by the Daily Mail, newly promoted Premiership teams Reading, Southampton and West Ham have Aiyegbeni, who is valued at 1.5 million euros, on their shopping list.
The Nigeria international is also being targeted by Turkish Super League outfit Eski├ůčehirspor, who are in search of players to strengthen the attack next season.
There is contact between Eski├ůčehirspor and the representatives of the 29-year-old forward.
There was interest for Yakubu from Turkey before he signed for Blackburn Rovers last summer. Now, the chase for the 29-year-old begins again!