RUDOLF BESTER Doubtful To Face Nigeria
Published: May 29, 2012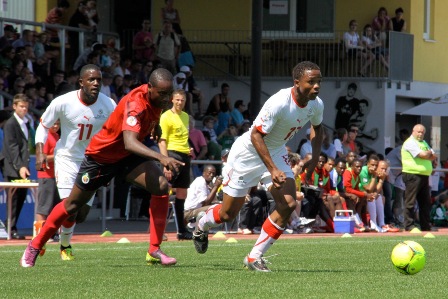 Brave Warriors attacking midfielder Rudolf Bester is a doubtful starter for Sunday's World Cup qualifying match against Nigeria in Calabar.
Bester, who plays for South African Premier League champions Orlando Pirates, has been suffering from a thigh muscle injury and according to coach Bernard Kaanjuka it is doubtful whether he will play.
"Bester's injury is serious. I don't think he can play against Nigeria, but we will still wait and see," he said.
If Bester is ruled out, it will be a big setback for the Brave Warriors since he is the most experienced player in the squad with 39 caps for Namibia. He is also Namibia's all time leading goal scorer along with Gervatius Urikhob with 12 goals.
Black Africa striker Jerome Louis has also been suffering from an ankle injury but according to the NFA's technical director Klaus Starke, he is responding well to treatment.
"Jerome is looking good, he has trained the last few days in Germany and should be available for selection," Stark said.
Kaanjuka meanwhile said the team's training camp in Kaiserau, Germany had gone well.
"Preparations have been going well for the team thus far. We have the best facilities in this town, with a gym, a nutritionist, natural grass, artificial grass, you name it and the team has thus far optimally utilized all that to their benefit," Kaanjuka said.
Kaanjuka said that the team spirit was high and that he was expecting a spirited performance in Nigeria on Sunday.
"The players are very eager to play and the team spirit in the camp is exceptional. We are confident that it will replicated on the pitch on Sunday," Kaanjuka said.
He added that the young players were blending in well with the senior players and the discipline of the players was good as well.
"The senior players are very helpful and the young ones are willing to listen and take advice and that I believe is something that we need in the team," he added.
The team will play their third and final warm-up match against a local German side, SV Herbern in Aschberg on Wednesday.
Last week Namibia drew 1-1 against a Germanregional team Westfalia Rhynern with Willie Stephanus scoring Namibia's goal in the first half.
The Brave Warriors will depart for Lagos, Nigeria on Thursday before they connect to Calabar for their 2014 FIFA World Cup qualifier match on Sunday.
Reproduced by allnigeriasoccer.com; Permission from namibiasport.com.na

Latest News