BROWN IDEYE Rooting For Ukraine In European Championship
Published: June 09, 2012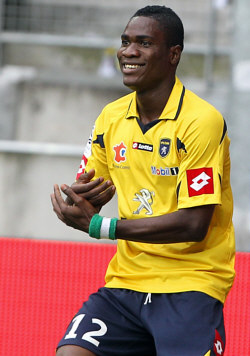 Dynamo Kiev forward Brown Ideye is now in Ukraine, one of the hosts for this summer's European Championship, which began on Friday.
In an interview with the official website, Ideye says he'll be supporting his Ukrainian teammates to qualify for the next stage of the competition.
''Of course, I'll be rooting for Ukraine, because there are a lot of my friends and teammates in Dynamo Kiev. So the Ukrainians - my favorite. I hope they manage to win the trophy they deserve. I wish them good luck and do not doubt that they will do everything possible,'' said Ideye.
He continued: ''I'll be at the stadium during the first match Ukraine - Sweden, as well as planning to go to Donetsk in the encounter between the English and French. I am sure will be very interesting.''
Ideye had scheduled a trip to the United States to spend his vacation, but could not go because of visa problems. Dynamo Kiev start pre-season training on Tuesday, June 12.
Latest News