Udinese Star CHRISTIAN OBODO Abducted In Warri
Published: June 09, 2012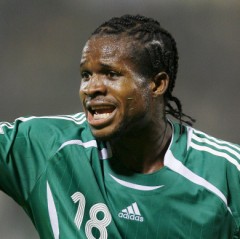 Allnigeriasoccer.com can confirm that former Udinese midfielder Christian Obodo was abducted in Warri on Saturday. Obodo was kidnapped close to Zion Faith Ministry Church, Effurun at the early hours of today.
At the time of the incident, the 28-year-old Nigeria international was driving, but was compelled by force to get out of the car. It is believed the specialized number plate of the car, OBODO 5, made him an easy target.
According to ANSA News agency, Obodo's brother-in-law Obidike Okechukwu revealed that the kidnappers have made contact with the family, and are asking for a ransom of 150,000 thousand euros.
"They phoned this morning at the home of the mother of Christian asking a ransom of about 150 000 euros. Christian is okay, we are in contact with the kidnappers, who want some money. He is not in danger. We have a telephone appointment later with the kidnappers. They want money, we can not give more than 100, 000 euros. Unfortunately these things happen in our country,'' says Okechukwu, who is married to Christian Obodo's sister.
In a statement released, Lecce, Obodo's last club in the Serie A, has offered condolences to the family of Christian Obodo.
''U.S. Lecce expresses its proximity to the player himself and his family at this time of great distress with the hope that the situation will be resolved as soon as possible and in the best possible way,'' the Italian club stated.
"I am devastated. Christian Obodo for me is like a son. Really bad news. Hopefully everything will be resolved for the better,'' Coach of Lecce, Serse Cosmi was quoted as saying by La Gazzetta dello Sport.
Latest News