KENNEDY IGBOANANIKE Could Wait Four Months To Know Fate
Published: June 09, 2012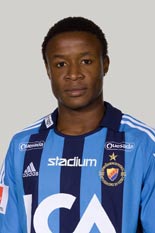 Source:Fotbolltransfers.com
Kennedy Igboananike has taken his Swedish club Djurgårdens IF before the Tribunal. It can now take up to four months before a decision is made.
''It is important to sort out what is what. The decision between Kennedy and Djurgården are indicative of the Swedish football in the future, ''says Players Union General Secretary Magnus Erlingmark to fotbolldirekt.se
He continues: ''We believe in self-evident that we are right, we think Kennedy is right. But regardless, we need to get clear about how the agreement should be written in the future to avoid similar cases.''
Igboananike, 23, has been frozen out of the first team by the coach of DIF, and sent to train with the Under 19 squad, which was not stipulated in his contract.
Latest News