Spezia Keen To Snap Up CHRISTIAN OBODO
Published: July 02, 2012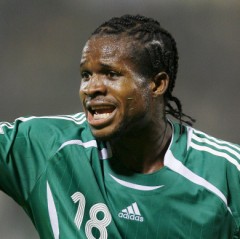 As reported by
pianetalecce.it
, newly promoted Serie B club Spezia are keen to snap up the Nigeria international Christian Obodo, who was kidnapped and released last month while holidaying in Warri, Nigeria.
The midfielder spent last season on loan at Lecce. Following the club's demotion to the Serie B, the future of the former Perugia ace remains uncertain. Lecce have not told Obodo if he would be remaining with them next term.
Christian Obodo has spent 11 years in Italy playing for Perugia, Fiorentina, Udinese, Torino and Lecce.
Meanwhile, Kenneth Obodo, the younger brother of Christian , is being awaited to return from Nigeria before he is unveiled by third-tier Benevento.
Resport.it
says Kenneth will be officially announced as a player of the Wizards on Wednesday, July 4, same day he is expected to return to Italy from summer vacation.