CHRISTIAN OBODO Processing Italian Passport, Delays Move To APOEL
Published: July 16, 2012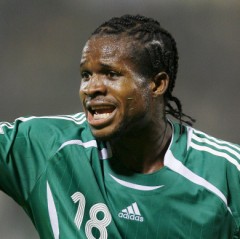 28-year-old Nigerian midfielder Christian Obodo, though under contract with Udinese, is not in the plans of the coach for next season.
Obodo is attracting huge interest from CSKA Sofia and APOEL Nicosia, but the later lead the sprint for his signature. The out of favor Super Eagles player had been expected in Cyprus last weekend to formalize his move to last season's UEFA Champions League Cinderella team.
Sigmalive.com says Obodo failed to arrive the Cypriot capital because he was processing his Italian Passport, which he is eligible for after spending 11 years in Italy.
The hypothesis is that Obodo would be offered at least a two - year contract by APOEL Nicosia.