OBI MIKEL Happy With Champions League Performance
Published: July 16, 2012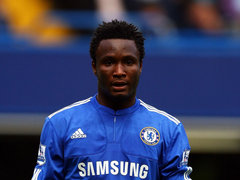 Source: Tribalfootball.com
Chelsea midfielder John Obi Mikel was delighted with his performance in the Champions League final.
The Nigeria international is proud to begin the new season as a European champion.
"I was very delighted with how the game went for me personally but overall it was a collective team performance and everyone helped me to play well," he told chelseafc.com.
"The whole team worked very hard, we knew we had almost touched it the last time we were in the final and this time we were so determined not to let it go. The performance was just amazing from everyone in the team, even the guys on the bench. The support that they gave to the players just kept lifting you up as you played extra time. It was something we all did well as a team to achieve.
"People still talk about that night everywhere we go but for us now we have done it and we want to build on it.
"We won't relax, we want to keep building and keep winning trophies. We have lost some players and hopefully the guys who come in will bring even more than the guys who have left, but the guys who have left did really well for this team and they will always be remembered."