RASHEED ALABI: I Want To See Out My Contract With This Great Club
Published: July 17, 2012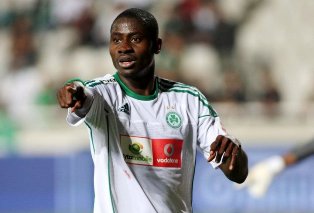 Last week,
allnigeriasoccer.com
, citing reputable Cypriot media, had reported that former Flying Eagles invitee Rasheed Alabi might be one of the candidates to get the coach's axe at Cyprus Cup winners AC Omonia.
A local website backed by a leading telecommunications outfit in Nigeria tried its best to discredit the story but failed.
Rasheed Alabi, who is with the AC Omonia squad at a training camp in Poland, says he would love to continue his four-year adventure with the Greens next season.
''I have played with AC Omonia in the UEFA Cup before. I think the squad needs my experience to do well in this competition in the coming season. I would be happy to be part of this team for another season, and I hope we do well in Europe,''Alabi told
allnigeriasoccer.com
.
The 26-year-old defender has picked his goal against Manchester City three seasons ago in the UEFA Cup as the most important goal of his career, and credits coach Neophytos Larkou for helping him improve his game.
''Scoring against Man City I would admit is the highlight of my professional career. It was one of the happiest days of my life.
''Coach Neophytos Larkou is a very good coach. He has helped me improve on my weak areas since he took over as coach of the team. He is very excellent in team tactics. I would love to play under Larkou next season,'' Alabi said.
On reports linking him with a switch to Nea Salamina, Rasheed Alabi said:''I am not interested in going(on loan,Ed) to any other club. I love everything about AC Omonia - the management, coaching staff and the supporters. I want to see out my contract with this great club.''
Rasheed Alabi has suited 7 times for AC Omonia in European competitions. If experience is used as a yard-stick, coach Neophytos Larkou may give the Nigerian the nod in central defense when he submits his roster to UEFA in the coming days.