IFA Rues The Death Of YEKINI,APPIAH And OJEBODE
Published: July 17, 2012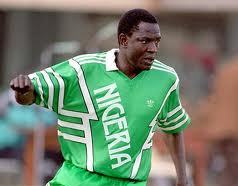 Still mourning the death of former IICC and Green Eagles defender, Samuel Ojebode, the Ibadan Football Association (IFA) has expressed concern over the spate at which the cold hands of death is snatching away Ibadan based ex-internationals, especially prominent members of IICC Shooting Stars' 1976 historic squad.
The Chairman of IFA, Alhaji Banji Akintayo conveyed this in a condolence letter issued by the football governing body to commiserate with the family of the deceased and made available to newsmen in Ibadan.
IFA boss noted that the vacuum created as a result of the death of Rashidi Yekini, Joe Appiah and Samuel Ojebode in the annals of soccer in Ibadan would take a long time to fill.
Recalling that the three players belonged to different generations of Shooting Stars' team, the association noted further that they recorded similar achievements with the club.
''While Yekini featured prominently for the Shooting Stars in African Cup of Champions in 1984, and further went ahead to win first Africa's Best Footballer Award in 1993 and scored the historic first World Cup goal for Nigeria in 1994.
''Joe Appiah and Ojobode were equally members of IICC 1976 that won first continental laurel at club-side level for Nigeria and all these players were regular visitors to Olubadan Stadium to support grassroots football,''said the IFA
Expressing the cordial relationship that existed between IFA and Yekini, the Chairman stated that Yekini was until sometime last year not only a regular spectator, but a keen observer and moral booster to the budding talents that featured in the IFA League.
''He had assisted the youths and the association morally and financially on many occasions. You will always see him watching our league at the stand in Olubadan Stadium,'' IFA noted.
Akanbi Agiri