Ajax Cape Town meets with Didier Drogba at Manchester United Premier Cup 2012 in Shanghai
Published: July 25, 2012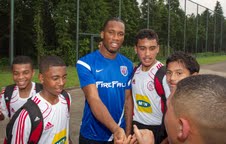 The Ajax Cape Town under 15 Team, participating in the Manchester United Premier Cup 2012 in Shanghai, China, has met with Ivorian football superstar Didier Drogba.
At the Shanghai Shenhua stadium, location where the MUPC is taking place, the Ajax Cape Town team was finishing their training session and were about to leave the pitch when Didier Drogba and his new team entered the field to start their own training. At that point in time, the encounter was inevitable and Didier was happy to meet young talents from the MUPC and take a few photos with them.
Drogba has signed with Shanghai Shenhua. The 34-year-old will join French striker Nicolas Anelka. The strikers will work under former Argentine coach Sergio Batista, who joined the club in May. Shenhua is bankrolled by high-profile video-game tycoon Zhu Jun.
Drogba may be approaching the twilight of his career but he showed he is still a lethal striker with a match-winning role for Chelsea in the Champions League final in May.