AllNigeriaSoccer Special: Nigeria's Top 20 Stars Of 2011 - 2012 Season (Part II)
Published: July 30, 2012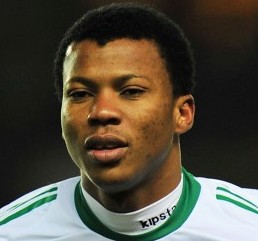 10. KALU UCHE (MR CALM)
is still basking in the euphoria of his two goals at the 2010 World Cup in South Africa, which not only made him Nigeria's top scorer in The Rainbow Country but also underlined his status as a key player in the Super Eagles. However, despite spirited efforts at club level, Kalu has not found the stability that would turn him into a cult hero. His odyssey from Wislaw Krakow of Poland to Girondins-Bordeaux of France, Almeria of Spain, Neuchatal Xamax of Switzerland and Espanyol of Spain is yet to highlight his 'unique selling point' – credibility in attack and versatility in midfield – to the extent that the sobriquet he has received from the media (Mr. Calm) appears to have limited his impact as an enforcer.
9. CHINEDU OBASI (Edu)
is obviously the biggest revelation on the top 20 Nigerian soccer stars of the past season, but his elevation comes mostly from statistics of his January loan move to Schalke 04 of Germany from Bundesliga rivals, TSG Hoffenheim, rather than from the quality of his game. Nonetheless, that is not to say 'Edu' is not worth recent accolades flowing in his favour, as he still remains among the fans' favourites and many would readily excuse his devalued rating with the Super Eagles, simply because it was mostly due to a spate of injuries, especially after his brilliant goal against Egypt at the 2010 Nations Cup in Angola. As it stands, as Obasi settles down at his new base in Deutschland, his well-wishers will pray fervently that he returns to the form they saw of him at the Beijing 2008 Olympics, while also noting that he is the only Nigerian footballer that has played at the U-17 World Cup, U-20 World Cup, Olympic Games and FIFA World Cup in rapid progression.
8. JOHN CHUKWUDI UTAKA (The Attacker)
appears as the biggest symbol of resurgence for any Nigerian player of the immediate past and present generations of the Super Eagles, as the former Rangers International of Enugu, Ismaili of Egypt, RC Lens and Stade Rennes of France and ex-Portsmouth of England star suddenly rediscovered his goals-scoring feet with an equally revitalized Montpellier, en route to becoming crowned champions of Ligue 1. John Utaka's form saw him net two goals on the final day of Le Championnat and he promptly got a recall to the Super Eagles, after he last appeared as a 'non-playing' member of the squad to World Cup South Africa 2010.
7. TAYE TAIWO (The Tornado)
is another Super Eagles player that has come up for knocks in recent time, especially with a cloud of doubt escalating over his days at AC Milan of Italy, from where he went on loan to Queens Park Rangers of England, after failing to find his foot on arrival from Olympique Marseille of France, and his future still dangles like a yoyo. However, the former Gabros International of Nnewi and Lobi Stars of Makurdi left-wing-back has promised to make the best of his next port of call – QPR, Marseille or Benfica of Portugal, and believes he can once again become relevant for the Super Eagles.
6. AHMED MUSA
is sipping the spoils of his January transfer from VVV Venlo of Holland to CSKA Moscow of Russia, which took him into the UEFA Champions League and ranks him as Nigeria's fastest growing player of the moment. The erstwhile eternal highest goals scorer in the Nigeria Premier League, which he achieved in 2010 with Kano Pillars (before Jude Aneke broke it last year), was very busy for Nigeria all through 2011, as he oscillated from playing with the Flying Eagles to the Olympic Eagles and Super Eagles in quick succession. Inevitably, Musa's busy spell catapulted his relevance to unprecedented levels, and it was small wonder that he was even touted with possible offers from Arsenal of England and Borrusia Dortmund of Germany.
5. JOSEPH IKPO YOBO (Man In The Middle)
should be celebrated as the only defender in the ANS top-five-bracket of Nigeria's leading 20 players of the past season, as a rather inevitable loan move from Everton of England to Fenerbahce of Turkey turned into a real blessing for the Eagles' all-time most capped player, who has also played for Standard Liege of Belgium and Olympique Marseille of France. Remarkably, his quality of play on the pitch has improved and critical Nigerian football lovers have been forced to reduce the flak they throw at the product of Michelin FC of Port Harcourt, who recently sealed his permanent transfer to Ferne and earlier overtook Muda Lawal and Nwankwo Kanu as Nigeria's most capped player.
4. JOHN MIKEL OBI (The Catalyst)
initially appeared edging closer to the class of floundering stars of Nigerian football, as a series of blunders for club and country left the Chelsea of England midfielder facing the stark truth that he might have been overrated all along. A rash of injuries also put Mikel's stride at all levels of the game at the cross-roads, but his ability to overcome talk of a January exit from Stamford Bridge to star for all 120 minutes in The Blues UEFA Champions League ultimate triumph against Bayern Munich was the tonic he needed to relaunch himself and get back in the grove. However, the former Rangers of Enugu and Lyn Oslo of Norway star will have to worm himself into the heart of Super Eagles' coach, Stephen Keshi, who is apparently no fan of Nigeria's 'busiest player' of the present generation.
3. IKECHUKWU UCHE (The Chief)
has a remarkable feat of always winning a bet for any pundit who puts his money of this Villareal of Spain striker to score at least a goal in any given match he plays. Great goals, no doubt, have come off the boot of this velvety petit youngster, who first shot to prominence in the shirts of Racing Ferol of Spain, before making splendid inroads into La Liga with Recreativo Huelva, Getafe and Real Zaragoza, followed by a loan deal at Grenada. Incidentally, IK is another Super Eagles player that has faced a torrid battle with injuries, which even kept him out of the 2010 Nations Cup and World Cup, but he is now back doing what he loves most – which happens to be catching goalkeepers napping with long-distance pop-shots on target… but he still needs to be luckier at club level.
2. PETER OSAZE ODEMWINGIE
finally roared back to form, after a battle with injury and flak over disciplinary issues put his quality in question for club and country; but, after putting all those troubles behind him, the West Bromwich Albion of England star went on to justify interest from English Premier League rivals, Fulham and put the lie to CAF's exclusion of his name from the short-list of players for African Footballer of The Year 2011. The mulatto star, who also played for AS Racines of Lagos, Insurance of Benin City, La Louvierre of Belgium, Lille Metropole of France and Lokomotiv Moscow of Russia, will aim for a fatter haul of goals than the 15 beauties he struck for The Baggies in his debut season of action in the EPL, which also drew interest from Arsenal and Tottenham Hotspur … but apparently ignited an attitude problem for the Uzbekistan-born attacker-cum-winger.
1. YAKUBU AIYEGBENI
is back in the rating as Nigeria's top-ranked performer of the moment and there is no arguing that he is the one worth celebrating tops of all others (at least for now), despite disdain from many critics and other football fans that refuse to forgive him for his horrendous miss against South Korea at the 2010 World Cup. However, a feat of 17 goals for Blackburn Rovers at the end of the past season, which included a brace each against top guns Arsenal and Manchester United, and a big-money transfer to Guangzhou R&F of China, where he notched three goals from his first four matches, once again reignited the cliché – ignore The Yak at your own peril! The product of Okomu Oil FC of Benin City and Julius Berge FC of Lagos, who also played for Meccabi Hafia of Israel before his adventure to England took off, is back again in reckoning with the Super Eagles. After reviving the form that made him a 'demi-god' at four other English clubs he played for - Portsmouth, Middlesbrough, Everton and Leicester City - pundits now expect Yakubu to once again showcase the lethal quality that shot him up to become Nigeria's eternal third highest top scorer ever (with 21 goals).
Sam O' Femi Fasetire