Lazio Set To Offer EDDY ONAZI New Contract
Published: July 31, 2012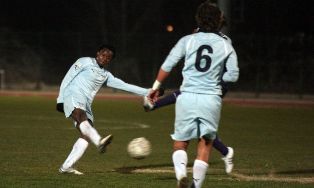 Lazio coach
Vladimir Petkovic has been impressed with the form of the Nigeria youth international Eddy Onazi at pre-season training. The 19-year-old will play a vital role for Lazio in the Serie A this season, Italian website Lalaziosiamonoi.it has hinted.

Onazi has shown his versatility at training in the team's summer retreat at Auronzo, playing in central midfield and as a right midfielder. This has tipped the scale in favor of the Nigerian for candidates being considered as replacement for
Cristian Brocchi.

Against Torino, Siena, Montebelluna and Top 11 Calcio Club 103 in Lazio's last four exhibition matches, coach
Vladimir Petkovic introduced Eddy Onazi on the field in the second half of each of those games.

The Biancocelesti hierarchy want to extend the contract of the former Under 17 vice - champion which expires at the end of the 2013 - 2014 campaign. Onazi will earn 180,000 euros as annual wages if he accepts the proposal from the club.

Eddy Onazi made his debut for Lazio in the 2-0 win over Atalanta in May, 2012.