BROWN IDEYE In Celebration Mood, Wife Gives Birth To Second Son
Published: July 31, 2012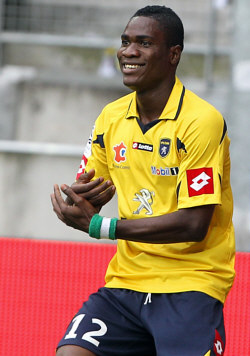 Dynamo Kiev forward Brown Ideye is in celebration mood ahead of his club's UEFA Champions League qualifier against Dutch giants Feyenoord on Tuesday. Ideye's wife recently gave birth to the couple's second son, it has been announced.
Brown Ideye is the top goalscorer in the Ukrainian championship with four strikes in three games. He wants to remain focused and achieve the team's goals of qualifying for the Champions League proper.
''Each of us understands how important the upcoming game. We're playing at home, so do not expect anything other than victory. I am confident we can achieve a good result, which will allow us to go to the next qualifying stage,'' Ideye told the official website.
Dynamo Kiev, who are the most successful club in Ukraine, failed to progress to the group stage of the Champions League last term.