APFAN Dare Flying Eagles
Published: August 02, 2012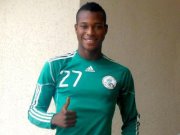 The Nigerian under-20 national team, Flying Eagles are bound to get a stiff test in their build-up to the second leg of the African Youth Championship (AYC) qualifier against Tanzania, if plans outlined by Association of Proprietors of Football Academies of Nigeria (APFAN) to file their selected squad against Coach John Sam Obuh's side see light of the day.
This much was disclosed to
allnigeriasoccer.com
by APFAN chairman, Prince Tunde Alade, who said the body's general meeting at Lagos National Stadium on Wednesday was aimed at taking far-reaching decisions on plans to play the Flying Eagles and Golden Eaglets in high-profile friendlies during the month of August.
"Our meeting on Wednesday was basically to outline programmes for APFAN in the month of August, during which we aim to line out our squad of graduates to play matches against the Nigerian youth national teams," said the proprietor of Alade Sports Complex, Ipaja, Lagos State.
He added: "The team is made up of our top discoveries in the recent national competitions that we organized, from which 71 players have already been shortlisted from the initial list of 400 discoveries.
"We are hoping that the NFF will now approve us to line our best selection against the Flying Eagles and Golden Eaglets; while hoping that they will be able to spot some of our stars for the national teams."
Alade further revealed that the APFAN squad will be handled by veteran coach, Solomon Adeshina, to be assisted by former Super Falcons assistant coaches, Oluwole Santana and Joy Nnenna Etim.
Other matters discussed during the meeting of the body, which Alade says was officially registered with corporate affairs commission in 2009, include plans to stage the annual APFAN youth cups (U-13, U-15 and U-17) before the month of August runs its full course.
"The competitions will begin on August 20 at two venues simultaneously," he expatiated. "We will stage the under-13 and under-15 cadres at Alade Sports Complex, while the under-17 category will hold at Command Children's School, both in Ipaja, Lagos.
"Alongside football on the pitch, we will also repeat what we started last year; when we had lectures for the kids in Nigerian History, English Language, Mathematics, Bible Studies, Islamic Religious Knowledge and Rules of The Game, which was handled by a top referee from Lagos State."
Sam O'Femi Fasetire