BROWN IDEYE Dedicates Goal To Son
Published: August 02, 2012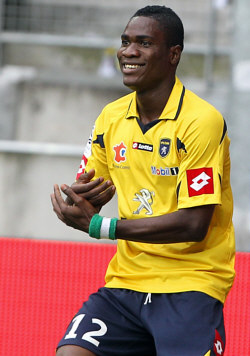 Dynamo Kiev forward Brown Ideye celebrated the birth of his son with the match winner on Tuesday in the UEFA Champions League game against Dutch powerhouse
Feyenoord.

Ideye's wife delivered the couple's second son at about 09:20am
on Monday .The baby, who has been named Andrew, weighed 4.52 kg with a height of 52 cm.
The Nigeria international has dedicated his goal against the Dutch vice-champions to his newborn son.
'' I really wanted to score today for my newborn son, and did everything for this.You see, once I was able to find target, the guys congratulated me, depicting the symbolic swing of the child,'' Ideye told the official website of Dynamo Kiev:
Brown Ideye has more than a 100% record this season in terms of goals scored. His 69th minute strike at the Olympic Stadium on Tuesday was his fifth goal in four official matches.