UMUNEGBU BANKS ON BOLOGNA FOR REVIVAL
Published: August 04, 2012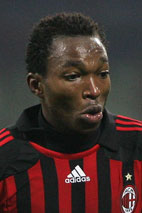 New Bologna of Italy signing, Kingsley John Umunegbu (Oruma) has admitted that he is banking on his latest deal to ensure he gets a revival of fortunes for his career, after passing through the entire spell of last season clubless.
Umunegbu's spirited rise to limelight with a stint in the youth team of AC Milan and an invitation to the Nigerian under-20 squad, Flying Eagles in 2009 received a jolt when a nagging injury shut him out of reckoning.
An attempt to gain instant resuscitation with a loan deal at Grenata in 2010 did not make matters any better for the product of Rocky FC of Okota-Isolo and Olympique Marseille Youth of Ladipo Market, both in Lagos, as one problem after the other kept erupting to put his career lift of hold.
The biggest prayer that was on the lips of Umunegbu now is "O God, please let this be a better deal for me in my football career"; as he aims to put behind memories of his frantic search round Europe in the hunt for a club of any class all through the past year.
Gone were the days when Umunegbu rubbed shoulders at The San Siro with equally promising lads in the Milan Primavera, Nnamdi Oduamadi, Harmony Ikande and Wilfred Osuji – only for them to all face different shades of fortunes in the year under review.
Like the other three, Kingsley John also sought succour in a loan deal away from Giuseppe Meazza, as they all went looking for regular playing time at smaller clubs, where they would face easier opposition for shirts.
However, unlike Oduamadi, Osuji and Ikande, Umunegbu's leverage outside Milan never proved positive.
Ironically, it was a spell spent at Salernitana that marked the beginning of the descent for Umunegbu, although it was the same midstream Italian outfit that gave former Juventus prodigy, Benjamin Chukwuka Onwuachi (Investment) the revival-tonic back to reckoning in 2008.
Unlike the revival Onwuachi got from Salernitana, it was not going to be the same armistice for Umunegbu, as he soon fell from the height of hope and dropped on the pecking order, then ended up facing the gloomy prospect of yet another loan deal, which eventually took him to less-fancied Grenata in the Italian third flight.
Umunegbu took another look at the chain of agonizing moments that struck him in 2010 and eventually took him out of circulation all through 2011 and admits in a chat with
allnigeriasoccer.com
: "It was not an easy year for me. "I had to play in the third division for a small club, despite initially getting close to the main team of AC Milan. It was not because I am not good enough to play in the Milan senior squad, but it happened only because I suffered too many injuries, which affected my fitness and form."
Paradoxically, it was the same melancholy of recurrent injuries that put paid to Umunegbu's hopes of getting a breakthrough in the junior national team, as he copped another knock while in the Flying Eagles' camp, as the squad (then in Samson Siasia's charge) prepared for an eventually ill-fated outing at the 2009 FIFA U-20 World Cup in Egypt.
Although the under-20 national team fared badly at the championship in The Land of The Pharaohs, Umunegbu, who grew up in Itire-Ijesha area of Lagos, would have given everything to be part of the fray … maybe that would have boosted his chances of getting a club elsewhere in Italy or across the border.
So it had been for Harmony Ikande, who attended Egypt 2009 with a nagging hamstring injury, but found his rating soar at Milan and eventually moved to Extremadura of Spain before heading to Israel.
Conversely, for Umunegbu, he completely dropped out of circulation and ended 2011 without a single contract on his lap, talk less of any deal that would see him shine again, as his potentials had suggested when he first broke into prominence at Milan.
However, while the fleet-footed winger, attacker-cum-midfielder, who arrived The Land of The Azzurri in 2004 after shinning in the colours of National Grassroots Dream Team at Upper Austria Cup in the summer, will readily admit that injury has dealt a wicked blow to his hopes for a lucrative career in the round leather game, he enthuses that the worst is over and says he is now headed for a revival.
"Injury was my biggest setback for last year, but I am now back and better. It was not easy to overcome the hard times I faced, but I took a lot of motivation from Gattuso.
"You know, he was also injured for a very long time, but returned and regained his shirt in Milan's main team. He was also always ready to advise me and give me words of encouragement," Umunegbu recounted.
Aside inspiration from the Italian international and Milan skipper, Kingsley also recalled how he had to muster a lot of self-belief to overcome the storm and says he was glad to have enough support from his family during the torrid spell.
"There is nothing as good as family, especially a family that is ready to understand and stand by you in the moment of your trials and need," said the lad from Imo State, who is now thinking big once again.
Sam O'Femi Fasetire