EMMANUEL EMENIKE: Eating A Banana Is The Solution
Published: August 04, 2012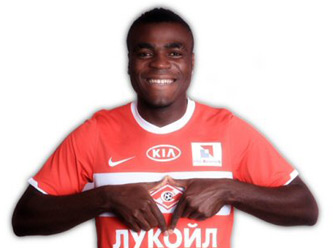 Spartak Moscow forward Emmanuel Emenike has commented on the episode in which former Brazil international Roberto Carlos had to eat a banana thrown at him from the podium in Samara.
''I agree: eat a banana - is the solution. But not always: You do not know - what if it was poisoned banana. I'm not worried because of the bananas. It's ugly when one person throws a banana to the other, but I do not worry,'' said Emenike to sports.ru.
The 25-year-old Nigeria international had previously suffered racism in Russia, specifically in last season's game between the
red and white
and city rivals Dynamo Moscow. Now, he says there is no racism in his home country, Nigeria.
''In Nigeria are a lot of white and they have long since mingled with black, and live without any problems. But to speak for all African countries, I can not,'' said Emenike to the Russian website.
Finally, Emenike said he is in love with Spartak Moscow, and won't leave the club to join another Russian team. Should he depart the Russian vice - champions, then , he goes to another club in Europe.
Photo Credit: Spartak Moscow
''