HENRY CHINONSO IHELEWERE Dies During Match In Romania
Published: August 05, 2012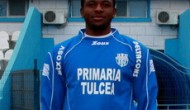 It is another tragic day for Nigerian football. 21- year - old Henry Chinonso Ihelewere slumped and died on the pitch, ten minutes after he was introduced, in a friendly game between his club Delta Tulcea and FC Balotesti on Sunday.
Medics tried to resuscitate Ihelewere but their efforts were in vain. The cause of his death remains unclear, though the match was played at a temperature of above 40 degrees Celsius which shouldn't be a worry for a player coming from Africa. It is being reported by the Press in Romania that he swallowed his tongue.
Former Nigeria youth international Kehinde Fatai was close to Ihelewere, who arrived Romania about five years ago.
''Henry is my friend and I knew since childhood. I talked to Delta striker few days ago, during the friendly match that was played against his team. Henry did not play, but sat in the stands. I asked why not change, knowing that my friend has never had serious health problems. He assured me that he is simply not playing because the coach used the other players. I am shocked,'' the Astra Ploiesti forward was quoted as saying by
gsp.ro
.
Marian Ivanescu, who officiated the game told gsp.ro: ''I can not believe what happened! It is the first time! I have been a referee since 1994 ... In the 86th minute, I called a foul for Tulcea, at that time I saw their player lying on the ground.

''Unfortunately, the stadium intervention cars were not equipped properly. Therefore two ambulances were called, one came after 5 minutes, the second at 7. I have given hydration breaks in the first half, even two. I'm in shock!
''
Ihelewere had attracted interest from John Ibeh's Pandurii Târgu Jiu in the January transfer market. However, the management of Delta Tulcea failed to sanction the move because Pandurii Târgu Jiu did not meet the player's valuation.