BROWN IDEYE's Strike Earns Dynamo Kiev Europa League Spot
Published: August 08, 2012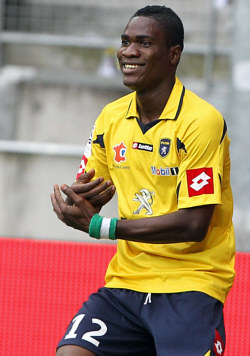 Brown Ideye's late winner scored in added time gave Ukrainian outfit Dynamo Kiev a 1-0 away win over Feyenoord in the return leg of the third qualifying round of the UEFA Champions League on Tuesday. The first leg ended 2-1 in favor of the Kievites.
Thus, the Ukrainian vice - champions are certain to play in Europe this season, as they have qualified for the Europa League. However, their main target is to seal qualification to the group stages of the Champions League
Ideye, 23, was the only Nigerian player considered for selection by coach Yuri Semin. Yussuf Ayila made the bench while ex Monaco midfielder Lukman Haruna was not listed for the match.
Dynamo Kiev had flown to Rotterdam on Sunday without Brown Ideye. The Schengen visa on his passport had expired; he only sorted that out on Monday, and arrived with journalists and important dignitaries on the eve of the match.