AMUNEKE FOOTBALL ACADEMY DISBANDS
Published: August 08, 2012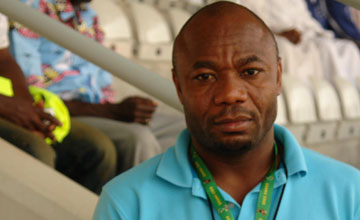 The bubble has finally burst in the chequered run of an Ikorodu, Lagos-based football academy that was named after former Super Eagles star, Emmanuel Amuneke, as a businessman that was sponsoring the project eventually decided to throw in the towel.
Information available to
allnigeriasoccer.com
has it that a football scout, whose office is located at Ojuelegba area of Lagos, had mooted the idea of the academy to the soccer-loving businessman three years ago, while opting to use Amuneke's name as a marketable brand for the outfit.
However, with the ex-international stopping short of showing adequate support and attention to the academy, things were bound to get tough, to the extent that the real financier started expressing doubt over the feasibility of the project towards the end of last year.
What started as a lofty venture, with a huge apartment provided by the financier as a camp house and his acceptance to sponsor a couple of lads for trials in Europe, soon turned sour when all dividends promised by the scout failed to surface.
Ironically, the first batch of players who were taken to Turkey for trials returned home empty handed, efforts to get a better deal for another set in Qatar failed to materialize and the final nail on the coffin was hit when some key players were not supported to make their mark in the under-17 national team, Golden Eaglets, despite the presence of Amuneke as an assistant coach in the squad.
Insiders further revealed to
allnigeriasoccer.com
that, although the academy's camp at Ikorodu finally reopened at the start of July, after several postponements from the start of the year, several players refused to turn up and some new coaches contracted to join the technical crew pulled out unceremoniously.
With the project obviously heading for the rocks,
allnigeriasoccer.com
learnt on good authority that the financier was left with no choice but to pull out and order that all players vacate the camp.
Sam O'Femi Fasetire