FC Barcelona's PENYA Berths in Nigeria
Published: August 09, 2012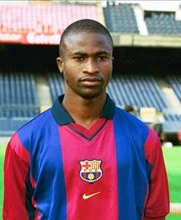 FCBarcelona, one of the biggest and most successful football Clubs in the World, with a global outreach of members, supporters and fans, recently announced the establishment of seven new branches of its worldwide supporter's club platforms known as Penyes, with one Penya berthing in Lagos, Nigeria.
Penya Barca de Lagos Club with Licence no 2081 received official recognition as a member of FCBARCELONA Penyes worldwide on January 23, 2012 via a letter from Jordi Cardona Casaus, Vice President Head of Social Area, FC Barcelona which was made public recently, along six other franchises by the spokesperson of the board in Barcelona, Spain.
In the Official Letter addressed to the President of the Club's Board of trustees – Mr. Leslie Oghomienor - while congratulating him on the decision to join the FCBarcelona penyes world, Mr. Casaus encouraged him to maintain the same enthusiasm in spreading the historic values that makes the club a different one. The core values of the FCB club that makes its colors and references an example all around the world are sense of civic responsibility, social integration, sportsmanship, solidarity, democracy and the FC Barcelona internationality.
With this development, Nigeria has officially joined FC Barcelona Football Club worldwide membership base - a long and detailed journey that took over two years since the idea was first muted.
Penya Barca de Lagos will be modeled as a frontline international non - profit, non - Governmental and – non-racial club devoted to the promotion, monitoring and administration of a solid membership and fan support base for FCBARCELONA in Nigeria while serving as link between the club and its teeming support base in Nigeria.
In order to realize these stated objectives in Nigeria, the Board of Trustees has announced the appointment of Miss Nkechi Nneka Obi as its Chief Executive Officer.
Miss Obi brings to her new task a wealth of multi-dimensional experience gained from Sports, Events and Media Management, Marketing and Consultancy, Corporate and Brand Promotions, Sports Franchise Development and funding and Project Management. She has also served as a Motivational Speaker and a Public Affairs Analyst at different times.
Miss Obi's stated goal is to use the FCBARCELONA brand to grow Penya Barca de Lagos into the undisputed number one football community in Nigeria while building the largest and most interactive football movement in the country. Penya Barca de Lagos aims at attracting 100,000 members in the first year, growing up to 1 million by the fourth year while building FCBARCELONA into the number one Sports Brand in Nigeria and creating a platform for interaction and marketing for discerning brands to associate with the Penya. In achieving these goals, Penya Barca de Lagos will contribute its own quota in no small way, to the development of the game of football in Nigeria
Penya Barca de Lagos membership is structured into Platinum, Gold, Silver, Bronze and Junior Members (Penya Kids) categories with a Club House for members' interaction and community development.
To underscore its seriousness, Penya Barca de Lagos has already rolled out quarterly events and activities for the next two years starting from August 2012 with the season opening SPANISH SUPER CUP 1st leg match between 2012 Copa Del Rey holders FCBARCELONA and 2012 La Liga Champions REAL MADRID.