WAHEED OSENI Welcomes Interest From Aris
Published: August 13, 2012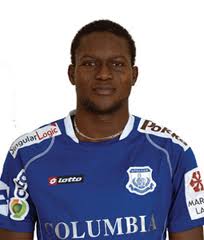 Cypriot side Apollon Limassol have chosen not to extend the contract of defensive midfielder Waheed Oseni.
Now, a free agent the ex Sunshine Star could be starring in the Greece championship if reports linking him with a move to Aris FC comes to fruition.
Oseni has told Greek media that he is looking forward to playing for Aris, saying that it is one of the best clubs in Greece.
''Aris is a very big club and the prospect a particularly happy thing. I learned two days ago of this interest and my agent informed me that today or tomorrow someone from the team will contact me. I've heard the best of the team and I know that Aris is one of the biggest teams in Greece. I want to help Aris and they help me too. I am free now, and Aris is a very good choice for me,'' says Oseni to Sports Day Greece.
Oseni, who can also play as a central-defender, joined Apollon in 2007 and played 79 league games (4 goals) for the club.
Photo Credit: Apollon Limassol
Latest News