Official: TUNDE ENAHORO Joins NOLBERTO SOLANO At Universitario de Deportes
Published: August 15, 2012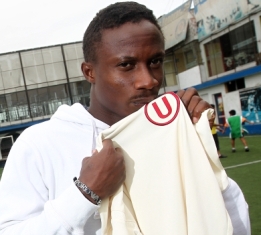 Source: Depor.pe
Nigerian striker Tunde Enahoro has signed a one - and - a - half - year contract with Peruvian Premier Division club Universitario de Deportes.
On Wednesday morning, Enahoro, who is relatively unknown in his homeland Nigeria, started training with his new teammates and had a chat with coach Nolberto Solano, who had requested for his services from Cobresol.
Enahoro, who could make his debut this weekend, will begin life at his new club with boundless enthusiasm.
He told depor.pe : '' It's a big step in my career. There is no greater joy for a player to come to a team as big as the 'U.
''I come to play and beat the opposition. Surely I must appreciate my teammates, but I have every desire to play now. I do better as a striker, although I have played as a winger, and even playmaker.''
Enahoro started his career in CF Torrellano in the second division of Spanish football. There he played from 2008 to 2010. In the 2011 season, he moved to Cienciano of Cusco where he scored only a little.
At the beginning of this year, Enahorro arrived Cobresol of Moquegua where he netted four times. His last goal came against Alianza Lima.
Víctor Zaferson Mendoza