OBI MIKEL Milks Chelsea's Millions
Published: August 16, 2012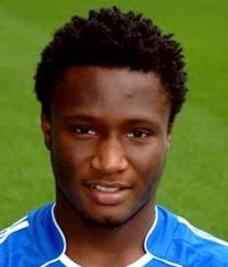 As another season of thrills beckons in the English Premier League (EPL), with the first weekend of action now at hand, the main individual focus from the Nigerian point of view should be John Mikel Obi (The Catalyst), who has become probably the busiest and arguable the best paid professional footballer from Africa's most populous country.
Not only is Mikel still basking in the personal euphoria of getting to play all 120 minutes for London-based Chelsea the May 19 UEFA Champions League final at Allianz Arena against Bayern Munich of Germany, he also enjoys the added boost of becoming only the third Nigerian player to win the coveted 'trophy with the big ears'.
To boot, the former Lyn Oslo of Norway midfielder now has a whiff of money flooding his bank account, following revelations that he and his colleagues from the Stamford Bridge club were rewarded with a huge largesse by their maverick owner, Roman Abramovic, which was further accentuated by an expanded prize windfall from Union of European Football Associations (UEFA) for the 2011/2012 elite competition.
Information emanating from The Blues' camp reveals that Mikel and other players in the team each pocketed a bonus of £300,000-a-man; while further information on the development indicated that the club as a whole received €59.9m (£47.3m) in prize money from UEFA and they were the biggest earners in last season's UCL.
At the same time, Mikel's club hot a record €55 million in TV money from their campaign in the competition, thanks to the unmatched size of the broadcasting deals agreed by UEFA with English business outfits and corporations.
Early signs had emerged that Mikel would smile on the personal level, as Abramovic showed how desperate he was to win the Champions League fort he fist time ever in the club's history, and consequently promised that each of the players would get £10 million in bonuses if they decisioned Munich in the decisive final of the German club's home turf.
Before all that, Mikel had already been ranked as the seventh highest paid African footballer in England, as a survey in Forbes magazine showed that he grosses $5,800,000 in annual income from salary.
Recent figures also disclosed that Mikel now earns 60,000 pounds a week at Chelsea, which is considered a far cry from speculations that emerged way back 2008 that The Blues were ready to give him a package that would take his weekly earnings to 120,000 pounds.
It would be recalled that, on June 2, 2006, Chelsea, Manchester United of England and Lyn Oslo reached a settlement to resolve the future of Mikel and his contract at Old Trafford was to be transferred to Chelsea.
That was the point when United agreed to terminate their initial agreement with Mikel, and Chelsea agreed to pay The Red Devils £12 million - half of which was paid on finalisation of the contract and the balance in June 2007 – while Lyn got £4 million - half of which was paid immediately and the outstanding in June 2007.
As a result of this, Chelsea were granted a work permit for the attacking midfielder turned holding schemer on July 19, 2006 - after they completed his £16 million signing a moth earlier.
Sam O'Femi Fasetire