AHMED MUSA Leads Nigeria's Future Hopes
Published: August 16, 2012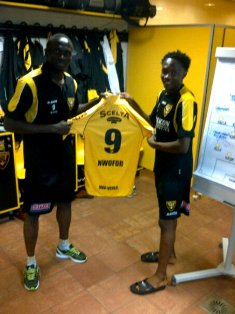 As another season of top-flight soccer action looms across Europe, with some of the major leagues kicking-off this weekend,
allnigeriasoccer.com
takes a look at Nigeria's top ten young players of the past campaign and highlight expectations from them for the new term.
Although Super Eagles coach, Stephen Keshi now has a penchant for using mostly home-based players, we take a look at the future from a different perspective and provide a critical yet plausible starting eleven, seven substitutes and five extra that we can keep in view for the core of a new look national team.
11 LADS OF HOPE
The starting eleven of the ANS 'new' Super Eagles are Nigeria's lads of hope for a rosy future for the nation and success of the national team.
1
.
DANIEL AKPEYI
– Although he is yet to go beyond several invitations, since the days of SAMSON Siasia with the Flying Eagles, Daniel remains a strong force for the future, as even Stephen Keshi now keeps him in the picture of relevance under the current dispensation.
2
.
CHIBUZOR OKONKWO
– He has been in and out of the scheme of things, he is at present in the penumbra of the national call, but that will not take away the fact that Chibuzor, who now plays for Heartland of Owerri, remains one of Nigeria's most experienced players on the home front.
3
.
VICTOR DENIRAN
– He may be the surprise inclusion in our squad for the future, but the fact that he was recently invited to the under-23 national team tells of his quality, especially after having seen action in Bulgaria for several years. In 2008, the former First Bank of Lagos left-wing-back signed his first professional contract overseas with Slavia Sofia in Bulgaria and then made his debut in the Bulgarian top-flight against Litex Lovech on August 9, 2008.
4
.
RAMON AZEEZ
– Nigeria's skipper to the 2011 FIFA U-20 World Cup has not found the going smooth at club level, but their remain pointers to the fact that he is a player of great quality, a midfielder who can ply his trade well in the holding role or even as one right behind the two strikers. He has made an impressive impact in the B squad of Spanish side, Almeria, but needs something bigger in order to let his true potential show.
5
.
APAM ONYEKACHI
– Injury has not been fair to the revelation of Samson Siasia's 2005 World Youth Championship silver medal team, but a belated emergence into the mainframe of Stade Rennes of France, after injury put his heroics on hold after a dramatic transfer from OGC Nice, has shown signs that the former Rangers of Enugu libero surely has a place in Nigeria's team of the future – although he has been hit with yet another injury.
6. KINGSLEY UDOH
– The assistant skipper of the FIFA U-17 World Cup-winning Golden Eaglets of 2007 has also not found the going smooth, which has completely left him out of the Super Eagles picture in recent time, but his ability to make hay when it matters most has belied the current shut-out that the Heartland of Owerri star continues to face in the scheme of things with the national team.
7. AHMED MUSA
– A dramatic move from VVV Venlo of Holland to CSKA Moscow of Russia shot the former Kano Pillars top-shot high up on the scales as Nigeria's foremost hope for a rosy future in the Eagles. Before making the four-and-half-year transfer in January, Musa had already been on the road to great expectations for the country, as he was one of the nation's busiest players on national assignment all through last year, in which he got to play for the under-20 squad (Flying Eagles), under-23s (Dream Team V) and Super Eagles at different yet close intervals.
The busy patch qualified Musa for stardom, but the youngster was able to keep his head and never complained about the challenges of honouring the nation's call. Musa, who starred for JUTH of Jos before joining Pillars, where he went on to become Nigeria's former all-time league top scorer (with 17 goals on target in 2010), is now rated tops of the array of youngsters ANS unfolds 'the kids who can make the Super Eagles fly in years to come'.
8
.
NOSA IGIEBOR
– Recent interest in the services of this former Lillestrom of Norway creative midfielder by Real Betis and Getafe of Spain has underlined his value, and experts believe he is worth more than another season in the backwaters of Israel's league, where he starred last time out for Hapoel Tel Aviv.
9. IKECHUKWU UCHE
– Has become Nigeria's 'sure-bet' for crucial goals in recent international matches, but the Aba-born lad has not found equal value coming his way at club level. A spate of injuries are to blame for his stunted progress, and the revelation of Racing Ferol, Recreativo Huelva and Getafe few years ago has again been compelled to once again ply his trade in the Spanish second flight, as he teams up with Villarreal for the new campaign.
10. LUKMAN HARUNA
– Apache has also not found the accelerated progress that his capabilities should ordinarily bring for his career, as a move from AS Monaco of France to Dynamo Kiev of Ukraine has not brought about the best of spoils for this youngster, who first made his mark as skipper of the FIFA U-17 World Cup 2007 inning squad, and dramatically went on to play for Nigeria at the 2010 World Cup in South Africa … only to fall into the shadows of relevance soon after.
11
.
NNAMDI ODUAMADI
– A spate of injuries has slowed down the lad fondly called 'Robinho' by childhood friends, to the extent that his loan spell from AC Milan of Italy to Serie B side, AS Torino almost ended unsung, and eventually the Turin-based side did not take the option to take him on permanently. Nevertheless, Odu remains a strong contender for future glory, and the expectant community of his roots at Orile-Iganmu, Surulere and FESTAC Town areas of Lagos (where he actually made his marks as an out-and-out striker) can only wait with optimism that his outings with this season will turn into bliss.
7 SUBSTITUTES TO TREASURE
The bench of the ANS Eagles of hope is made up of seven treasured youngsters, whose presence in the squad will provide good depth and quality to fall back on at any point in time -
AMBROSE VANZEKIN; IKE THANKGOD; TWERNA SUSWAN; ALEX NKUME; UCHE NWOFOR; RAHEEM LAWAL; KAYODE OLAREWAJUKEEP IN VIEW
- Outside our 'dream' hit squad of 18 promising stars, ANS also puts in line for possible involvement a couple of rising stars that we can 'keep in view' to fill in any vacancies –
FEMI THOMAS; AYO OLUWAFEMI; KENNETH OMERUO; RILIWAN HASSAN; CHIMA DANIEL UCHECHI; SEYI ADELEKE
Sam O' Femi Fasetire