NOSA IGIEBOR: My Dream Is To Play In The Spanish League
Published: August 16, 2012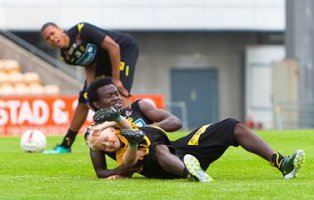 Source: estadiodeportivo.com.
Nosa Igiebor had not spoken until now, trusting in prudence to avoid misunderstandings that jeopardize the negotiations between Betis and his agent or between clubs.
He has not done much since his move seems entrenched. Maybe that's why, Nosa Igiebor has decided to break his silence on the pages of
estadiodeportivo.com
.
It is quite chastened because of some publications in Israel, to their view distorted with evil intentions. "I hate that kind of press," said the midfielder, who emphasizes the "nice" that has resulted in the talk held with one of our editors.
Nosa, in principle, had no news of his agent, Atta Aneke, so his answer to the first question: "I have heard that there is nothing new about my transfer. Nor do I know why it is taking so long. "
In good English, Igiebor continued to measure his words, but has no hesitation to confess what would be the perfect resolution to this issue in his view: "If all goes well, I would play soon in the Spanish league. My dream? I said once that I would like to someday play in Barcelona. I keep having this dream for my career. "
Yet Igiebor dare not predict how it will end this kind of cold war between Betis and his agent, but clarifies that he has not tried to fix it on his own.
"I have not spoken to anyone from another team because, well, I understand that that's not my job. I leave it to my agent, "said the midfielder, who does not accept comparisons with Emana:" I know him, so I do not know if we are alike. I am an attacking midfielder ".
On what could still be his new team, Nosa confesses to know "almost nothing", although he does have a reference: "All I know is a great player played there Nigerian Finidi George.''