Interview With Dynamo Kiev's BROWN IDEYE
Published: August 17, 2012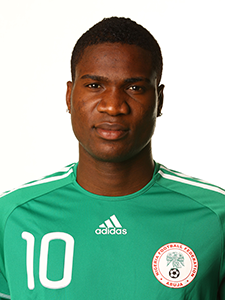 Dynamo Kiev forward and Super Eagle Brown Ideye has been interviewed by
www.dynamomania.com
, the unofficial website of the Ukrainian vice - champions, and he spoke on a variety of issues. Ideye is in the form of his life, bagging 6 goals in his first 5 games of the Premier League.

Brown, tell us a little about yourself. You were born in Yenagoa, as stated in Wikipedia?Brown Ideye
: ''And here and there. Wikipedia is wrong. I've been playing for a team from the city of Yenagoa, but not born there. Made a mess! Yenagoa - a center of crude oil and natural gas, and I was born in the largest city in the country with ten million people - Lagos!''

What profession were your parents?Brown Ideye
: ''My father worked in one of the refineries, and my mother was standing behind the counter - selling fruit, water. ''

How many brothers and sisters do you have?
Brown Ideye
: ''Seven. Four brothers and three sisters. I am the youngest in the family! ''
How did your family live?Brown Ideye
: '' Not to say in abundance, but my family can be attributed to be middle class. Barefoot and naked, we were not running. We had a TV and all that. ''
You have received schooling? Brown Ideye
: ''I graduated from high school. Learned so much myself. I saw myself in football, as I said, and parents they supported me, not forced to bring home from school just good grades. Through football, I could become financially secure man. Therefore, parents have been sympathetic to the fact that I am completely devoted myself to the sport.''

Do no other hobbies besides football? Maybe basketball? Brown Ideye
: '' We had another fun, pure African. From bottles of Coca-Cola, we cut out the bottom, took the lid and tried to put them in the hole.''
How are you addicted to football? Brown Ideye
: ''I was eight. I started at the goalpost. I am very pleased to jump, with somersaults in the goalposts. But once it came to an end. All because I broke my middle finger on my hand. I realized that it might not be the last time, and decided to retrain as a forward. Professionally started playing football at age 16.''

You started in a club, "Bayelsa United." This is one of the two clubs representing Nigeria in the league from Bayelsa State, and this derby with "Ocean Boys" is one of the most famous in Nigeria. And now, after playing one year in the "Bayelsa", you go to "Ocean Boys." Risky move!?Brown Ideye
: ''The truth is that I never played in the "Bayelsa United." No, indeed! It's intrigues of Wikipedia. I do not understand why they give the data, which in principle should not be. In the championship of Nigeria, I debuted at 18, spent two seasons and won the title of national champion in 2006!''

How much did you earn (every year, ed) in the championship of Nigeria?

Brown Ideye: ''
Five Thousand Dollars.''
In 2007 you played at the Youth World Championships in Canada. In the first World Cup match against Costa Rica, you become a hero of the match. Alas, this was your first and last goal in the tournament. You were satisfied with your performance? Brown Ideye
: ''
Of course not!
How can I stay happy, if in five matches, scoring just one goal?
Disastrous tournament for me.
In every game I've had opportunities, but never used them.
I wanted to score, but it did not work.
''

Nigeria crashed out in the quarterfinals, losing to Chile 0-4 in extra time. What happened to the team?

Brown Ideye:
''
I think we were exhausted . In most of the time football is double-edged, we responded to the attack, attack. And then once we got up suddenly. Apparently, the Chileans were in the best physical condition which affected the final result.''

Interestingly, the youth team players had been rewarded financially by Nigeria for an exit in the quarterfinals?Brown Ideye
: '' We received 2, 000 dollars but if we had won the World Cup, the money could have been more descent.''
In the 2010/11 season "Sochaux" ranked fifth, and you scored 15 goals in the championship. What kind of clubs were you dreaming about at that moment?Brown Ideye
: ''I dreamed about England. But I am well aware that I have not had 75% of caps for Nigeria so could not join West Brom! I believe that one day I find myself in England. And not just any team, but in a few of which I dream. To do this, I have to develop. I am glad that it was Dynamo Kiev. It has everything you need for a footballer. ''

You went to the 2010 World Cup, but have not played a single minute. Very upset?

Brown Ideye: ''I can not stand to watch football from the bench! It's not for me. I need the emotion, and I just scoop them directly in the game. A trip to South Africa - it was a bonus for me. Coach (Swede Lars Lagerbäck, ed) has not seen me in action and did not dare let on the field.''

How do you evaluate the performance of the Nigeria Team?

Brown Ideye: ''Very bad. I know the capabilities of our guys, but they did not show even half of what should have been. Nigeria could have qualified from the group. One point and fourth place in the group with South Korea and Greece - is clearly not what the Nigerians had expected!''

Nigeria will necessarily get to the World Cup 2014?

Brown Ideye: '' And what should be my response? Of course - yes! I believe in my team. Without faith, nothing is achieved. Nigeria is required to play at the World Cup!''

One of your competitors in the national team of Nigeria - Spartak Moscow's Emmanuel Emenike. Do you watch his games for Spartak?

Brown Ideye: ''Saw a few games. A good striker, he's is one of the leaders of "Spartacus." In the national team alongside Emenike I spent a couple of games, and we hit it off well.''