OLISEH Downplays FC Ebedei's Promotion
Published: August 17, 2012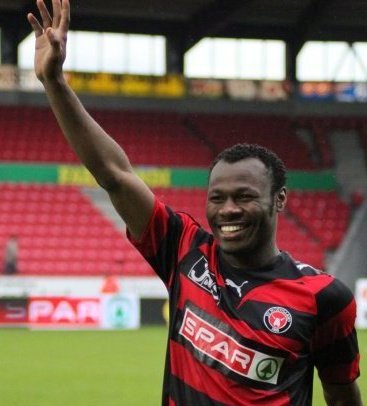 Renowned football scout and mentor, Barrister Churchill Oliseh has come out with a startling declaration that he is not excited that his Shagamu, Ogun State-based clubside, FC Ebedie is about to reclaim a spot in the Nigerian National League (NNL).
With Coach Tunde Oladiende's boys currently standing third on the log of the Nigerian Nationwide League, whose final week of matches has been postponed for the umpteenth time, there are strong indications that Ebedie will once again ply their trade in 'the pro-league' next year, after they were relegated in the past season.
However, in a down-to-earth chat with
allnigeriasoccer.com
at Ikeja, Lagos during the week, the club's president stated that, despite the avenue he gets to expose his players through competitive matches, the standard of play in both lower divisions of Nigerian football is basically the same.
"It's true that it is almost certain that we will be promoted back to the pro-league," said the man fondly called Barry, "but we are not excited by that possibility.
"Why should we be excited, when it means we will need to make additional expenditure to keep the team going; yet there is no form of income to assist us in any way that is required."
The older brother of former Super Eagles skipper, Sunday Ogorchukwu Oliseh nevertheless refuted talk tht Ebedie might withdraw from the league, especially as the season in Nigeria's third tier division has been kept on hold for several months, with only a single match each left to be played by the competiting teams.
"We are not complaining," explained the older Oliseh, who was a goalkeeper at Obafemi Awolowo University, Ile-Ife and defunct International Breweries Limited (IBL) FC of Ilesha, both in Osun State, during his youth days.
"For us, the league is just an avenue required by us to produce exceptional players. It is a means of serving our purpose of testing how our boys will respond to the ultimate tests when they get abroad."
It is on record that FC Ebedie, which is now captained by Francis Odudu, have produced a vast array of past and present quality players for Nigerian football.
The prestigious list of 'Oliseh's Products' includes Obafemi Martins, Ayo Makinwa, Ikpe Ekong, Marshal Mbre, Hakeem Agbetu, Femi Ajilore, Ifeanyi Emeghara, Kingsley Udoh, Riliwan Hassan, Sylvester Igboun, Babajide Collins, Benjamin Onwuachi, Issah Eliakwu, Henry Okoroji, Saheed Deshokan, Sekou Oliseh and many others.
Sam O'Femi Fasetire