Ex Saint-Gilloise Attacker PRINCE NNAKE Recalls Days In Belgium
Published: August 17, 2012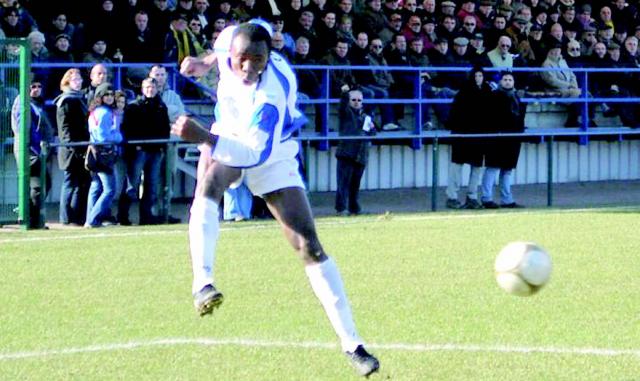 As a new football season kicks-off across Europe, former Racing Union Saint-Gilloise of Belgium attacker, Prince Nnake has shot his mind back to the glorious days and nostalgia of happy moments he once had while plying his trade abroad. In this interview with allnigeriasoccer.com at FHA Field FESTAC Town, Nnake, who joined Kwara United at the start of this year, says playing in Europe was a thrill for him, but he still picks Dolphins of Port Harcourt as the foundation of everything he has achieved in the round leather game...
ANS: We recall that up till late 2010 you were still playing for Union Saint-Gilloise in Belgium; tell us about your experience over there..
.
NNAKE
: The club is an old team in Belgium. They used to play in the top division, but now they are in the lower division, after facing some problems. I joined them early 2010. I went there on a five month contract, when they were again facing relegation, but I was able to save them at that time; especially as I scored nine goals in ten games and they quickly gave me a permanent contract.

ANS: Do you have any regrets about having to play in the third division, instead of the Belgian Jupiler League?NNAKE
: No, it's something that I have come to accept about life. The way it is, sometimes someone has to start from somewhere below. It was just something similar to the move I made from Dolphins to Sharks and later FC Abuja in the Nigerian league. I left Dolphins at a time the club was doing well and I was scoring regularly for the team. That's what football is all about. I was having fun with Dolphins in the continental level, even competing for the highest goals scorer award in the CAF Confederations Cup, but I decided to join Sharks then made the move to Belgium when the offer came.

ANS: What impact did your experience in the Nigerian league have on you during your days in Belgium?NNAKE
: It was really satisfying for me, because I already had experience from playing in the African continental scene with Dolphins and for Sharks in the local league. I was happy that I was able to score many goals for them. I also played for FC Abuja at a point, and all of that really went a long way to keeping me up to standard in Belgium.
ANS: What's the standard of play like in Belgium's third division?NNAKE
: I think it's still big business like any other league in Europe. Although it's the third division, but the standard is equally high. Despite that, though, I see similarities of the Nigerian league even there in Belgium. I believe the way we are growing back home will eventually take us to that level where they have got to in countries like Belgium.
ANS: Wouldn't you have preferred going to Spain, France or even Germany, where the standard is much higher?NNAKE
: As well know, Belgium is a nurturing ground for Nigerian players, and we have always seen it as a place where young players can start from and make their name. Remember that Osaze Odemwingie started there, even Celestine Babayaroo and Daniel Amokachi as well as many other Nigerian players made their name in Belgium. It's true that Germany, Spain and France are bigger than Belgium, but it's a good place for young players to develop.

ANS: You are back home to roost for now, but what memories do you have of life in Belgium?NNAKE
: It's a place where you enjoy football. It's a good place with friendly people, good weather and a warm social life. I was happy to learn French in Belgium, because it's an international language, like English, and I learnt a little of it in school in Nigeria, which is why I was happy to get more of it over there.

ANS: If you had the opportunity of going abroad once again, which country will you prefer?NNAKE
: If I had the opportunity, I would choose Germany ...
ANS: Why?NNAKE
: It's just because of the hard style of the German league. I love the tough nature of football that they play there. I believe football is meant for strong and able-bodied men. I also love the pace of the game over there and I will love to play in Germany. I believe that I will get there one day.
ANS: What about your chances of playing in the Super Eagles?NNAKE
: I once had the opportunity of wearing the national colours with the home-based Eagles back then. I even got a call to the Flying Eagles while I was with FC Abuja. I am obviously interested in donning the national colours once again, and I know that the coach needs the best players and he knows the standard he wants to keep. Sometimes, it's not about how you play, but how lucky you are or which club you are playing for. All I believe is that when my time comes I will get there. I will just keep playing, keep scoring, keep hoping, and one day I will get there.
ANS: Finally, what's your secret for success?NNAKE
: I just pray that I will have the best of all my matches and that I score a lot of goals. I have to be injury free and aim higher. That's always been my motto - aim higher; just aim higher ...
ANS: Thanks for speaking with us ...NNAKE
: Thank you for having me....
Sam O'Femi Fasetire