ADAMU, LADIPO Honour ILABOYA's Daughter
Published: August 18, 2012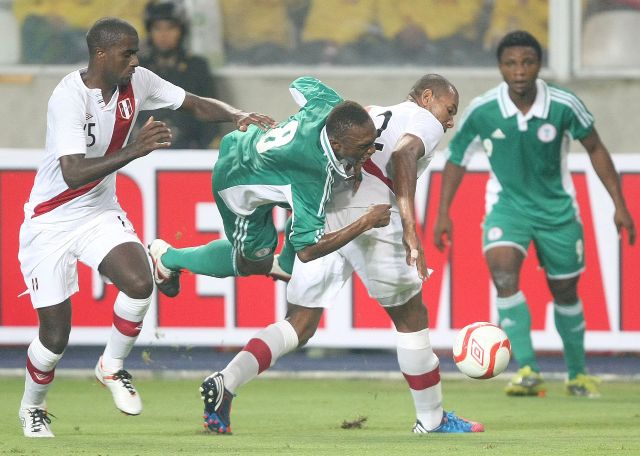 Former director-general of National Sports Commission, Dr Amos Adamu put up a surprise appearance in public Saturday afternoon, as he turned up among the special guests at the wedding reception for the daughter of ace sportscaster, Frank Ilaboya.
Many heads turned in unison and several mouths were left hanging agape when the man fondly called 'Mr Fix-It' was announced among guests during the reception ceremony at Apata Memorial High School, Okota-Isolo, Lagos, as sports personalities from far and wide turned out to Ilaboya, who is a former chairman of Lagos State chapter of Sportswriters Association of Nigeria (Lagos SWAN).
Also among the crème de la crème at the occasion, which had Nigeria Olympic Committee 9NOC) media officer as co-master of ceremony, were Nigerian Football and Other Sports Supporters Club president-general, Dr Rafiu Ladipo, former secretary-general of Nigeria Football Association, Ambassador Fanny Amun and renowned league coach, Godfrey Esu.
The list also included former Shooting Stars of Ibadan attacker, Arthur Madueme, ex-fringe player of Togo's national team, Hakeem Badru, as well as several top sports journalists like Taye Ige, Godwin Enakhena, Patrick Omorodion, Tony Obot, Toyin Ibitoye, John Joshua Akanji and Alfred Okoligwe.
An elated father of the day, now vice-chairman of Edo State Football Association, Frank Ilaboya would later expressed delight that esteemed colleagues and members of the fourth estate of the realm trooped out in large numbers to honour his invitation for the most memorable day to date for his delectable daughter.
"I am most happy and highly honoured with how God has made this day successful," said the chief executive of radio and television programmes under the banner of Sportsville Communications.
"I am equally happy that my colleagues in sports journalism and many personalities that we have met in the line of our job also turned up for the occasion. I cannot find the words to thank them enough."
Sam O'Femi Fasetire