Sorrow And Woes Of Lost Pros
Published: August 18, 2012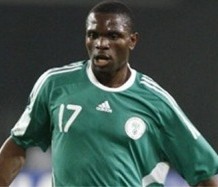 While the hunt is on for young players to make the Super Eagles tick in the coming days, allnigeriasoccer.com recalls some lads who once looked promising, but are now forgotten in the annals of Nigerian football. Indeed, not too long ago, they were all shining like the comet from outer space, and many a football lover was tipping them for stardom and relevance to the Eagles for many years to come. Sadly, while a 'veteran' like Nwankwo Kanu (Papilo) is still hopping determinedly in and out of the big picture, the average Nigerian football lover would hardly know the whereabouts of these 'pros of woes'...
STEPHEN AYODELE MAKINWA
- Fondly called 'The Tiger of Lagos', Ayo Makinwa shot into limelight during the 2004 Nelson Mandela Challenge, scoring Nigeria's only goal in a 2-1 loss away to south Africa and the feat helped him join the ilk of players who scored on their Super Eagles debuts.
The horizon looked so bright for the Ondo State-born tall striker from Ile-Oluji, but the only other goal he ever scored for Nigeria was in a rain-soaked and waterlogged qualifier against Lesotho in Warri and an appearance at Ghana 2008 Africa Cup of Nations. From that point on, it was downhill all the way for this lad who has played for a record nine different Italian clubs, as several bouts with injuries have since kept him in the cooler at SS Lazio, after a stillborn loan deal and half a season at Larissa of Greece.
ALIYU MOHAMMED
- Here's another youthful striker whose biggest mark came with AC Milan of Italy, when ( in 1999 ) he became the youngest African to have played in the Serie A. Aliyu shot to delight in the 1997 Golden Eaglets squad , who could not played at the Africa U-17 Championship, because their international passports were forgotten in Lagos for a qualifier against Benin Republic in Ibadan. They found a consolation in winning the maiden UEFA/CAF Meridian Cup, much to the delight of then military heard of state, Sani Abacha.
Sadly, Aliyu (who could not speak a word of English when he was discovered by Fanny Amun) could not consolidate on his Milan breakthrough and soon got lost in the quagmire of football with stints at Siena and Monza of Italy as well as Zulte Waregem, Standard Liege, AA Gent and Mons-Bergen of Belgium.
TOSIN DOSUNMU
- He was another hero of the Meridian Cup-winning Eaglets of 1997, who rode on the back of an equally sterling and very edifying outing under former Super Eagles assistant coach, Fatai Folorunsho Amoo at First Bank FC of Lagos. The one fondly called 'Sinker' soon found his way to Belgium, where he became winner of the Jupiler League's top scorer award on two separate occasions and also won the Ebony Boot Award for the best African player in the championship.
His club career covered clubs like Molembeek, Germinal-Beerschot, Dender, Mechelen and Westerlo, but a spell alongside Rabiu Afolabi (Robocop) at Vienna Austria ended abruptly and he headed back to the former Mecca of Nigerian stars in Europe. Heading backwards through, never got to be the saving grace for the twice capped fleet- footed striker, who also had a cameo deal at Nancy of France and whose first match with the Super Eagles saw him lose a glorious goal-scoring chance against Rwanda.
AZUBIKE OLISEH
- The one fondly called 'Bike' had always been on the thresh old of national and international glory, especially as he looked good to tow the hire of his more famous older brother, former Super Eagles' skipper, Sunday Ogorchukwu Oliseh. Like his older sibling, Azubuike made his mark in the Belgian Jupiler League with RSC Anderlecht, before crossing over for a feel of action in Holland and Cyprus.
Before then, Bike showed a lot of promise when he got the call to star for the under-23 squad at Sydney 2000 Olympics, but a spate of unruly conduct, a fit of anger and dissent caused him a red card in a group game against Italy. With the freckle-faced fair-skinned product of Royal Angels Youth (RAY) FC of Coach Sunny Chukwu (Supremo) at FESTAC Town, Lagos failing to show any remorse for his sending off, the route to a bigger feel of duty for Nigeria at full senior level appeared doomed to end up stillborn for him.
KEVIN ONYEKACHI AMUNEKE
- He once appeared as the next answer to the question about Nigeria's need for another dynamic and velvety natural left-footer down the wing. Rising to limelight mostly on the strength of the strides of his glamourous, award-winning older sibling, Emmanuel Amuneke, the lad fondly called Kachi made his own fair share of marks with the youth teams of FC Porto and Vitoria Sebubal, before his club terrain developed several gullies. Repeated sojourns in and out of Sweden saw him star for Landskrona BoIS, Norrköping and östers IF, before attempting further adventures in Bulgaria and Romania.
Those unfulfilled expeditions though, never served his career any good, to the extent that a return to Nacional of Portugal could not help him regain a place in the Super Eagles. Sadly, one of his few opportunities to shine in the green-and-white saw him completely miss hit the ball when he tried to shoot at goal against Angola in 2005.. and he was never forgiven by the ever critical Nigeria fan. That marked the beginning of the end for the product of FC Abuede of Oshodi and Soccer Warriors of Orile-Iganmu, both in Lagos.
ISSA ALLY ELIAKWU
- The stage once appeared set for another youthful explosion at Inter Milan of Italy, so soon after the emergence of the fiery Obafemi Akinwunmi Martins (The Weapon of Mass Destruction). At that point, the new kid on the block was Abdullahi Issa Eliakwu (Aly), who was as fast, fleet-footed and fearsome as they came, and everyone was already calling for his inclusion in the Super Eagles and 'double-promotion' before he was ever weaned by the Inter primavera.
Sadly, a stillborn loan move to Parma marked a descent behind the Rubicon for the lad from Ojo Cantonment, Lagos and subsequent promising deals at Spezia and Triestina were not good enough to revive him at club level. Not even a deal at the money-spinning Russian side, FC Anzhi Makhachkala was good enough to shoot him back to limelight, while invitations to the Flying Eagles and Dream Team both ended up mysteriously dead on arrival (DOA).
PHILIP CHIDI ONYEMAH
- 'The Phenomenon' shot to limelight as a 12 year old, when he emerged best player of the Pepsi Football Academy National Youth League in 1996. The following year, he placed third in the first and only John Fashanu Grassroots Football Awards and then came tops at the 1999 Complete Football Magazine Youth Awards. All the glitter from the early days led the then skipper of Araromi Secondary School, Orile-Iganmu, Lagos into the Golden Eaglets squad of 2001 under Coach Hassan Abubakar (before he gave way to Musa Abdullahi) but the product of Emmanuel Amuneke's now defunct youth team, Soccer Warriors of Lagos opted for the Golden Fleece in Europe instead of following the Eaglets to Trinidad of Tobago.
Sadly, a deal brokered for him by Amuneke at FC Porto of Portugal hit the rocks when the lads international transfer certificate was seized by Pepsi Academy director, Kashimawo Laloko, who was technical controller in the then NFA… and Onyemah never recovered. A short spell of hibernating in Spain eventually ending with him heading back to Portugal, but subsequent spell at Fornos de Algodres, FC Farmalicao, FC Porto and Rio Ave never catapulted him to the level of his espied potential. A
deal of FC Timisoara of Romania and one at Sundsval of Sweden both faltered, before he found his way to his current club, Olympiakos of Cyprus….but he never gained a Super Eagles invitation.
OLADAPO OLUFEMI
- Here's another enterprising midfielder that has been lost in the quagmire of cutting his teeth in the stormy waters of professional football in Europe. From the backstreets of Agege and Isheri in Lagos, the lad fondly called 'Oloyi' stormed unheralded into the main frame of Isah Ladan Bosso's Flying Eagles of Canada '87 and, before you could say Jack Robinson, he was one of Nigeria's revelation. Alongside Chukwuma Akabueze (Bentley), Elder son Uwa Echiejile, Efe Ambrose and, to a limited extent, Brown Aide Ideye, 'Oloyi' was one of Bosso's shining lights in a rather thread bare line-up.
Interestingly, before the competition, ex-Eagles 'keeper, Joseph Dosu had lined up a deal for the youngster at RSC Anderlecht of Belgium but preferred a better offer from Boavista of Portugal in the wake of Canada 2007. Sadly, that decision turned out to be a killjoy for Olufemi, as Boavista eventually got relegated and the youngster had to ship out. He ended with a spell in oblivion, before turning up at IK Start of Norway, but is still yet to reach the expected point of fulfillment which his form in the Flying Eagles showed him capable of achieving.
IFEANYI EMEGHARA
- Innocent Emeghara of Switzerland is hot in the news, no doubt, but the 'first' Emeghara in Nigerian football had to be Ifeanyi (aka Fifty), who was part of the Super Eagles squad to Ghana 2008 Nations Cup. Sadly, an ankle injury picked up in training meant the then Steaua Bucharest of Romania right-wing-back (but mostly played from left-back) never got to play a single match in The Land of The Ashanti. That also marked a down turn of fortunes for the former Partizan Belgrude of Serbia and Timisoara of Romania defender, who has also played as left-wing-back with all his other clubs. He did get to feature in a number of international friendlies for the Eagles under Austin Eguavoen, but repeated battles with injury have stopped his ambition of replicating the quality he first showed in a number of UEFA Champions League and Europa League matches with his Bucharest-based club.
The lad from Mgbidi, Imo State would have needed just a call from former Super Eagles coach, Samson Siasia, before the gaffer took the potentially damaging decision to convert a midfielder to play at right back in place of Chibuzor Okonkwo against Guinea. If not a case of ill fortunes, only a reminder about the availability of Ifeanyi Emeghara could have made a huge world of difference.
PATRICK OGUNSOTO
- "The Black Pearl" once appeared as the man most likely to step into the shoes of Rashidi Yekini as the next goals king of Nigerian football. Two seasons of kamikaze goals-scoring from with Ergotelis of Greece shot the lad who grew up on Iwaya area of Lagos and former Julius Berger FC striker into the heart of every Nigerian football fan. Ironically, in spite of all noise and clamor for Ogunsoto's inclusion in the Eagles, he was invited eventually for a friendly against Austria but never made the trip (due to what he called late arrival of his letter of invitation for the game). That seemed to be the first undoing of the dark-skinned lad with tinted golden hair, as he never got another chance of coming close to the Eagles. A club switch to Westerlo of Belgium failed to yield dividends, and Ogunsoto beat a quick retreat back to Ergotelis, but the damage had already been done and he was never the same again; and he ended up early this year wallowing in search of a revival while clubless in Belgium.

VICTOR OKECHUKWU AGALI
- The next promising thing in attack for the Super Eagles was Victor Okechukwu Agali 9Okey Banana), only for him to fall from the height of heroism to the depth of nothing within a spate of three years – with a lot of fingers pointing at matrimonial woes and alleged vices as reason for his slump. Today, the gangling Agali busies himself teaching youngsters rudiments of the game at FHA Field, FESTAC Town, Lagos, but lovers of footie will always say that's not where he belongs. From his early days in France with Olympique Marseille and FC Toulon, Agali was the quintessential goals machine and showed equal venom in front of the net with Hansa Roctock and other clubs in Germany, before taking the backward trip to the Far East and eventually ended up in the shadows of nothing.
Agali's plight was not helped by matrimonial issues, nail biting injuries, immigration suspicions, problems with property and, of course, that infamous camp eviction from the Super Eagles at Egypt 2006 Africa Cup of Nations – along with Celestine Babayaro and Yakubu Aiyegbemi.
OTHERS
CHRISANTUS MACAULAY
is another lad that made great marks at global level, but has since failed to live up to the high ratings he started with. The former FC Abuja striker has continued battling to live up to the aftermath of emerging top Scorer at the Korea 2007 U-17 World Cup, which he sensationally pulled of with late Coach Theophilus Yemi Tella's team. His sojourn with three clubs in Germany is yet to yield front.
OROK AKARANDUT
has disappeared into oblivion so soon after emerging top scorer in the Nigeria Premier League, and you just have to wonder at his wisdom for opting for a deal in Tunisia, rather than Europe, at the height of his career. Akarandut began his career with Akwa United and was top scorer of Nigeria Premier League in the 2008/2009 season with 17 goals. After this big NPL performance, Akarandut signed with Tunisian side, CS Sfax on 13 July 2009, but that was the last remarkable that was heard about him.
EBENEZER OJO
caused a multiple of ripples to stir during his most daring days on the local scene and his breakthrough in the shirts of Rangers International saw him get a cameo role with the Super Eagles in the 2004 Nelson Mandela Challenge Match against South Africa. Expectations from that point were high or the lad from Osu, Osun State but, alarmingly, it was trouble all the way downhill right after for the product of Doyin Babes of Ilorin, who also got to play fort Shooting Stars of Ibadan before eventually hanging his boots prematurely.
IFEANYI UDEZE
has a story that takes him from World Cup relevance at Korea/Japan 2002 to oblivion occasioned by injury and domestic troubles. His club sojourns saw him line out for FF Kavala and AEK Athens of Greece, as well as West Bromwich Albion of England. But for the challenges of life that cut short his career so prematurely, 'Ify' could have given Taye Ismaila Taiwo and Elderson Uwa Echiejile a fight for the Super Eagles' left-wing-back slot.
NDUBUISI CHUKWUNYERE
(WOWOH) also showed great promise in his early days with the Golden Eagles, but ended up taking his trade to Malta, where he eventually got lost without a trace in the quagmire of 'low-class' football'. Another dream died for a creative midfielder, whose accent to stardom never reach any altitude, despite all the potentially he showed as a talented midfielder from A J City (Ajegunle, Lagos)
CHARLIBE OKOLIE
(USE YOUR BODY) also showed great promise with the Golden Eaglets under Hassan Abubakar, but the lure of Europe made him jet out without a valid club invitation so soon after starring for the under – 17 national team at a 5-A-Side competition in Germany. However, his sojourn in Italy saw him wallow endlessly in the waters of regional football, as he failed to get necessary papers for professional action in Serie A or even Serie B.
MATTHEW OLORUNLEKE
appeared to be the next Nigerian wonder in Italy when he twinkled brilliantly for Messina against AC Milan. Although he gained an invite to the under – 23 national team under Daniel Amokachi, injury copped in a friendly away to South Africa put paid to his future and, after several attempts at a comeback with Nocerina and a couple of other clubs in the lower divisions, he finally dropped his boots and is now a sports kits marketer in Italy.
Sam O'Femi Fasetire