TAYE TAIWO: We Are Happy We Got The Win
Published: August 22, 2012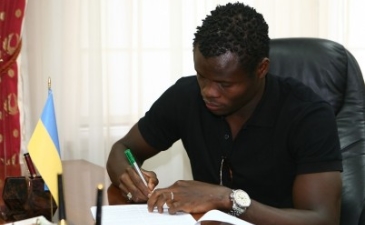 Dynamo Kiev are favorites to qualify for the UEFA Champions League group stage after defeating VfL Borussia Mönchengladbach 3-1 in Germany on Tuesday night.
Taye Taiwo lasted the entire duration of the game in the convincing win by the Ukrainian vice - champions.
''It was a lovely game and we're happy we got the win. We fought hard to come back from a goal down. The coach told us that we would have to be strong in defence, to fight hard because German teams work very hard and are dangerous. We're very happy with the performance.
''When you play away from home you have to bury every chance you get and we did that tonight. That was important for us. We don't need to sit back too much in the second leg, but we know they're a good side so we will be careful,'' Taiwo told uefa.com.
Photo Credit: Official Website Dynamo Kiev
Latest News