Nothing Special About EMENIKE's Goal - JOSEPH YOBO
Published: August 22, 2012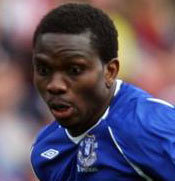 Nigerian defender Joseph Yobo has shared his thoughts and impressions on Fenerbahçe's slim 1 - 2 loss to Spartak Moscow on Tuesday.
''I think it was a difficult game. In the first half, we did very well. When they scored, we equalized. When you look at it, the game is still in our hands..... to go to Istanbul and try to beat them 1 -0. We scored an away goal but I think we could have done better as well,'' Yobo said.
When questioned on Super Eagles teammate Emmanuel Emenike who opened scoring for Spartak Moscow, Yobo said, '' If you look at from where the attack started, and from when they scored the goal, we could have stopped the cross. It was a tap in goal any body could score. He (Emenike, ed)did well today, hopefully we can get better.''
Tuesday's encounter at the Olympic Stadium, Moscow was Yobo's first official game this season for Fenerbahçe.
Latest News