Eaglets Spokesman Denies Over-Aged Player
Published: August 24, 2012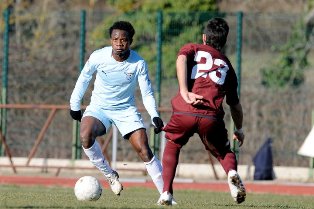 Unnder-17 national team, Golden Eaglets media officer, Morakinyo Abodunrin has added his voice to ongoing controversy over a soccer fan's allegation that there is an over-aged player in the cadet squad's Calabar camp.
Eaglets' officials have spent the better part of the week reacting to a posting by one Oghenovo Okpako, which found its way into public view via social network site, facebook, with an allegation that a player named Musa Yahya in the team's camp is actually 24 years old.
While joining an earlier official rebuttal of the declaration, Abodunrin told
allnigeriasocccer.com
on telephone that he knows nothing about the fan's claim.
"I have cross-checked with the coaches and even questioned some grassroots football experts and sportswriters about the posting, but no one knows anything about the story.
"I am at a loss where the story came from and who the writer is. I do not know what the said person wants to gain by sending the mail, talk less of anything about an over-aged player in the Eaglets' camp," said the veteran journalist fondly called 'Moraks'.
Okpako's story, which he sent to the e-mail boxes off some select sportswriters across the country at the start o the week, stated in part:"Head coach of the Nigeria U-17 team, Garba Manu, just recently released a list of thirty players for their final camping in preparation for their world cup qualifiers against Niger Republic.
"And on that list is Musa Yahya, who plays as a striker with Saltland City Football Academy, here is an U-17 school boy who was twenty two years old two years ago (now 24 years old) according to a video uploaded by his own club on the 30th December 2010.
"If we are not utterly irresponsible, how can such a person who was 22 years old in 2010, be in our U-17 team in 2012.
"I know I might be called all sorts of name as was done to great Adokiye Amiesimaka for coming out with the truth. But we need to be sincere with ourselves if we really need to develop our football."
Sam O'Femi Fasetire