The Chance: Emotions run high as 100 finalists are cut to 52 - two South Africans and one Ghanaian still in competition
Published: August 24, 2012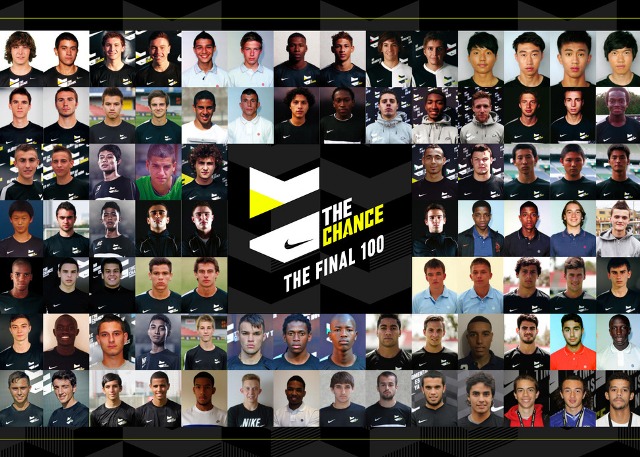 Emotions ran high tonight at The Chance final as the 100 finalists were cut to 52. The players who had put so much into their three days of hard training were told if they would be going on to tomorrow's semi-final and the chance to further impress the coaches.
After their dinner, the finalists were visited by a special guest David Luiz, and it was the Brazilian international who congratulated the remaining 52. For the disappointed 48 though, there were words of encouragement from the head coach, Jimmy Gilligan.
"Every player has been evaluated and debated upon by a very high calibre of coaching and scouting staff. It was a tough decision and a very emotional evening. I would say that we haven't shattered dreams but derailed them and I would say to the guys leaving us that they now have to show a strong mentality and keep pursuing their goals."
For the 52 remaining finalists, David Luiz had these words of congratulation. "When I was 14, I was rejected by one club and so I know what it is like to get a second chance. I was so hungry to fulfill my dream and I am sure they are too. Now they have to keep fighting. For the next two days they must give their body and soul."
# 40 Raoul Lombardo, Italy
# 72 Petar Golubovic, Serbia
# 93 Vladyslav Kolisnyk, Ukraine
# 7 Dario Van Den Buijs, Belgium
# 32 Dimitris Komnos, Greece
# 92 Jose Figura, United Kingdom
# 51 Emilio Rodea, Mexico
# 64 Kamil Piotrowski, Poland
# 100 Brian Iloski, United States
# 38 Andrea Ciribilli, Italy
# 11 Piero Malerba, Chile
# 57 Carlos Batista, Panama
# 16 Kevin David Salazar, Colombia
# 54 Ritchie Steinmann, Netherlands
# 79 Gonzalo Balbi, Spain
# 43 Yuki Yamanouchi, Japan
# 9 Jamerson Neves, Brazil
# 46 Young Jae Seo, Korea
# 90 Asleigh Artwell, United Kingdom
# 68 Kirill Laptev, Russia
# 81 José Manuel Barba, Spain
# 95 Jose Miguel Barreto, Uruguay
# 27 David Fernandes, France
# 44 Sang Jun Lee, Korea
# 76 Teboho Charlie Tsotetsi, South Africa
# 97 Bryan Windsor, United States
# 52 Darryl Bobson, Holland
# 37 Avishay Cohen, Israel
# 39 Marco Di Lauro, Italy
# 61 Fernando Canales, Peru
# 18 Josip Gusković, Croatia
# 24 Joel Bravo, Ecuador
# 84 Napapon Sripratheep, Thailand
# 60 Maurizio Costa, Paraguay
# 10 Tomás José Gellona, Chile
# 31 Bismark Kwarteng, Ghana
# 47 Alexis Khazzaka, Lebanon
# 74 Martin Kostal, Slovak Republic
# 3 Jorge Vallejos, Argentina
# 25 Xavier Delgado, Ecuador
# 2 Tomás Arrachea, Argentina
# 28 Matthieu Pironnet, France
# 65 Nuno Costa, Portugal
# 8 Wallace Camilo, Brazil
# 77 Melusi Zulu, South Africa
# 6 Ismail H'Maidat, Belgium
# 78 Saifeddine Alami, Spain
# 83 Bubakary Sonko, Sweden
# 41 Ryosuke Kinoshita, Japan
# 73 Faris Bin Abdul Ramli, Singapore
# 96 Santiago Cabezudo, Uruguay
# 34 Dávid Jakab, Hungary