Ex Falcons Keeper Blasts: I Am Not Stubborn
Published: August 25, 2012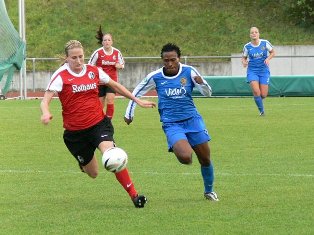 Former women's national team, Super Falcons fringe goalkeeper, Florence Osuagwu has come out with a daring declaration that she was never a stubborn player during her active days, in contrast with several damning words from a chain of coaches in the squad.
Osuagwu used the opportunity of a workshop on gender equality in sports at Ikeja, Lagos to clear the air on speculations that she might have been unable to successfully rob shoulders with the like of Ann Agunmanu-Chiejine, Taiwo Ajobiewe and Precious Dede simply because she always drew the ire of her handlers.
On the contrary, the former safe-hands of Jegede Queens, Bayelsa Queens and Police Machine declared emphatically that her problem in the national team started when she refused to 'play ball' with a coach (names withheld) that wanted something 'extra' from her.
"A coach told me that, for me to keep my place in the team, he will have to share with me whatever I was going to get from the team.
"Because I refused, he labeled me a stubborn player and vowed that I would never make it in the national team," alleged the mother of two, who grew up in Abakaliki, Ebonyi State.
While opining that getting to the top of female national team action in Nigeria is a matter of 'give an take', Osuagwu added: "We are not giving enough encouragement to young female footballers in this country.
"It was because they always preferred using the same players that they were used to that I refused to answer the invitation after getting to camp on two previous occasions," says the police sergeant, who was a back-up 'keeper to Ann Chiejine in 1998.
"I decided not to honour my third call-up in 2002 in Abuja. I went back to the team when Sam Okpodu became the chief coach but, again, I was very sad that they dropped me at the last moment.
"That actually happened despite the fact that I was the second choice goalkeeper, but they took the third choice along with them when Ann returned at the late hour.
"I am just happy that I eventually returned to the Police team, despite initially agreeing to join Bayelsa Queens.
"One of the officers advised me to return early, which I did, and that is why I now have a job with the police, which I am still doing up till today," Osuagwu concluded.

Sam O'Femi Fasetire