LIBERIAN BOY SHAKES OJO CANTONMENT
Published: August 27, 2012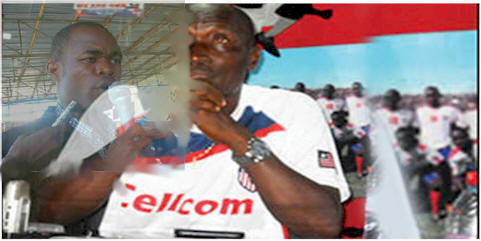 A Liberian-born youngster, Jabate Valvin was one of the star performers on Sunday, as Young Stars FC of Satellite Town, Lagos emerged winners of the maiden Ojo Cantonment Commanders Youth Cup, following a shock victory against crowd-favourites, 353 Artillery Arsenal.
Although Jabate could not get his name on the scorers' cards, as the boys of Coach Hyginus Okoye won 3-1 on penalties, the younger brother of Lone Stars of Liberia and CSKA Moscow of Russia midfielder, Sekou Oliseh (who changed his name after he was adopted by ace soccer scout, Barrister Churchill Oilseh) had done enough to leave fans chanting his name.
Dramatically, just like it was for Chelsea in the UEFA Champions League, Young Stars stole the show on the home turf of their hugely favored opponents, who scored the day's first goal through Haruna Garba, only for Emmanuel Owen to equalise with a free-kick just four minutes to the final whistle.
Referee of the day, Chinedu China decided it would be straight to penalties, and several players kept blasting their efforts over the bar, leaving both goalkeepers – Michael Uzil of Young Stars and man-of the-match, Anthony Umana of Artillery Arsenal virtually without any save all through the shoot.
Young Stars eventually carried the day in the most dramatic of fashion, despite losing their final kick from the spot, which left ace commentator, Corporal Zaki Okunbor shellshocked at the turbo-charged end to the competition sponsored by Ojo Cantonment Commander 149 battalion, Lt Col. H.I. Mabioku.
The cup donor was ably supported by Captain E.M. Sheu and Coach Bora in ensuring a smooth organization of the competition, while artillery 353 commanding officer, Lt Col. I.R. Oletubu turned up to support his wards for the final, but left the venue disappointed with their defeat.
A gold-plated trophy and glittering gold medals were presented to the winning team, whose star players in the encounter included skipper of the side, PeterLord Ogovin, right-wing-back Femi Olayanju and midfielders, Christian Ejoni and Felix Orishani as well as attackers Ndubuisi Ajiboro (Ronaldo) and Ikechukwu Nwanedo.
Sam O'Femi Fasetire