Exclusive: RICHARD EROMOIGBE Claims UAE, Qatar Offers
Published: August 30, 2012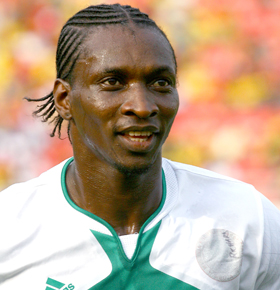 Former Levski Sofia midfielder Richard Eromoigbe who played for Beroe Stara Zagora last season has claimed he has offers from Qatar and UAE which he is studying with his agent.
The Nigeria international joined Beroe in January initially on a six - month contract with option for an additional season. But the Bulgarian club did not exercise that option at the end of the 2011 - 2012 campaign, so he is now a Bosman player.
''I will be going to UAE or Qatar soonest. It is correct that I had an extra year to play with Beroe but I left because they don't have cash anymore, and football these days is all about money and that is why I left,'' Eromoigbe told
allnigeriasoccer.com
.
Speaking on Stephen Keshi's invitation of home based players to the National Team, the ex Warri Wolf said: ''It is a good development for Nigerian football. But the Nigeria Premier League should be more organized to take care of these players.''
Richard Eromoigbe, 28, has played professionally for clubs in Bulgaria, Russia and Cyprus.