BROWN IDEYE Expects Victory Against Shakhtar Donetsk
Published: September 02, 2012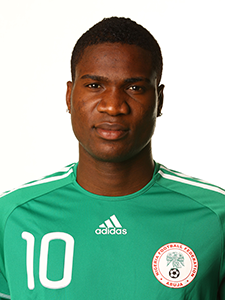 Dynamo Kiev trail log leaders Shakhtar Donetsk by three points after seven rounds of matches played in the Ukrainian championship. The two big rivals face each other on Sunday evening at the Donbass Arena.
In - form Nigeria forward Brown Ideye has admitted that the game against The Miners is their most important game in the first stanza of the league. A loss today means the capital team will go six points adrift of the current champions.
Speaking to the Dynamo official website, Ideye said: ''It will be a meeting of the two leaders of the Ukrainian football fans, will have a very tight match. It is a derby. Our club aims to win every game. Therefore the game with "Shakhtar" I expect only victory. We must catch up with the "Miner" in the standings. ''
23 - year - old Brown Ideye, in the Nigeria squad to face Liberia next weekend, has bagged 10 goals in all competitions this season for Ukraine's most successful team.

Latest News