JOSEPH ENAKARHIRE Resurrects In San Marino
Published: September 02, 2012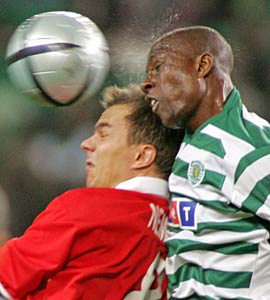 Former Super Eagles defender Joseph Enakarhire has surprisingly sprung up in the backwaters of world football, playing in San Marino, all in a desperate bid to pick the pieces of his fast falling football career.
Enakarhire, best remembered for his sterling performances for Belgian side, Standard Liege and Portuguese club Sporting Lisbon, with whom he was the beaten finalists in the defunct European Cup winners' Cup in 2005, was reportedly convinced to sign for the obscure San Marinese club, to help out in their Europa League campaign.
The former Bordeaux star, whose search for a club since his departure from Greek side, Panathinaikos, appeared to be heading to eternity, agreed to sign up with the San Marinese club on the instance of the club president, who believed the former Eagles star's experience will help salvage some pride for the unknown team.
However, the Enakarhire would fail to lift the club in the first ever campaign in Europe as they were beaten both home and away by Latvian club Liep√ĄĀjas Metalurgs. Enakarhire played the entire duration of the ties on both legs, which the Latvian club advanced to the next round on 6-0 goal aggregate.
The last competitive game he played was in the colours of Panathinaikos, where he played on loan from Russian giants, Dynamo Moscow, four years. He had earlier attended trials in many clubs but nothing came out of it.
Enakarhire played 22 times for Nigeria and netted twice, making his last outing for his country at the 2006 Egypt Nations Cup.

Latest News